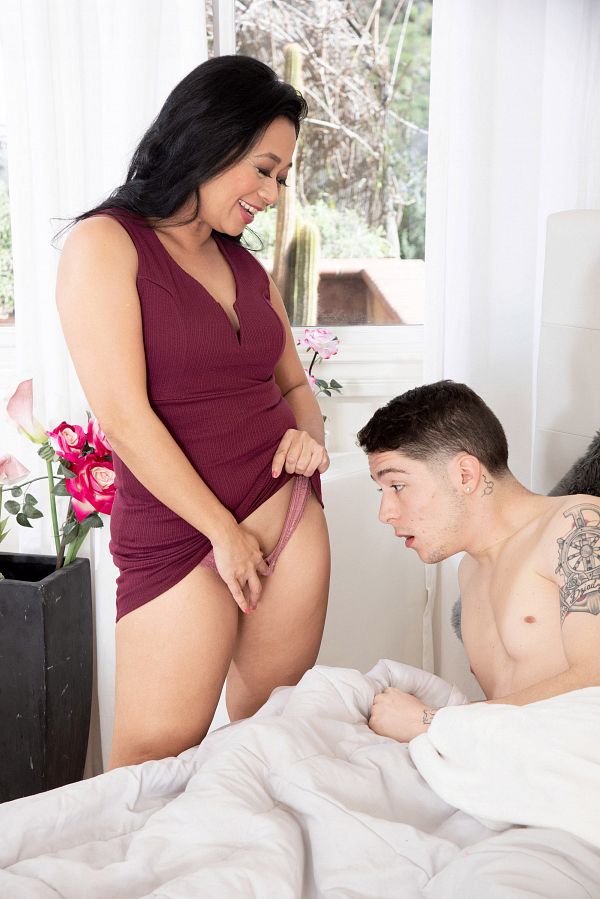 "I went into porn because I enjoy it," said Lucky Starr, a 46-year-old cougar from New York City who lives in Los Angeles, California. "I like someone to feel good just from watching me."

Here, we're watching Lucky on what's supposed to be spa day. She and her friend Kate were supposed to head on out, but Kate's late, so she told Lucky to let herself into her house. Well, whaddya know? Kate's son, Connor, who's only 24 years old, is asleep, and Lucky is curious about what's going on under the covers. Morning wood, perhaps? Damn right, and when Connor wakes up, he doesn't stop his mom's hot friend from having her way with him. He even fucks her tight little asshole!

We asked Lucky what's the best thing about being a beautiful woman, and she said, "You can get away with anything!" Such as seducing your best friend's son.

Lucky has some special talents in addition to her impressive sexual skills. "I like to sing Karaoke," she said. "I was Miss Porn Star Karaoke for the longest time."

Miss Porn Star Karaoke? We didn't know such a thing existed.

She likes musicals. She's an extrovert, "but when you first meet me, you don't think I am. I'm shy until you get to know me."

Connor gets to know her very well in this scene. Lucky's shy? Not here, she isn't. She goes right after what she wants.