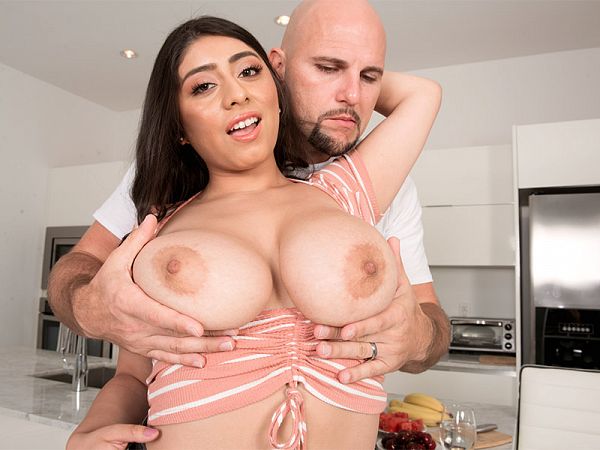 Luna Bunny has a fine spread planned for JMac...and some lunch, too. As grateful as he is, he'd rather spend more time on Luna's melons than on the melons on the kitchen counter. They can eat later once they recover from their hot kitchen sex.

JMac goes behind Luna so he can fondle and jiggle her big tits. He takes off her top and sucks on her tawny nipples, tastier than strawberries. Picking up a can of whipped cream he sprays Luna's boobs as the camera switches to slow boob motion.

Luna kneels on the kitchen floor before JMac and sucks his cream-covered cock. He asks her to play with her creamy tits, then blow and tit-fuck him again. She slaps her tits around his dick and goes all the way down on it as he holds her head. Luna drools all over his cock and sucks his balls with popping sounds. Holding her head, JMac fucks Luna's mouth.

JMac pulls down Luna's tighter-than-tight shorts and her thong panties. Her shapely body drives him nuts. He turns Luna around and fucks her from behind, standing up. The camera switches to slo-mo to capture Luna's bouncing boobs as he pounds her. JMac pulls a portable mattress over so they can get horizontal. Looking dick-drunk, Luna sends JMac to the moon when they get on the floor to fuck their brains out and cum.