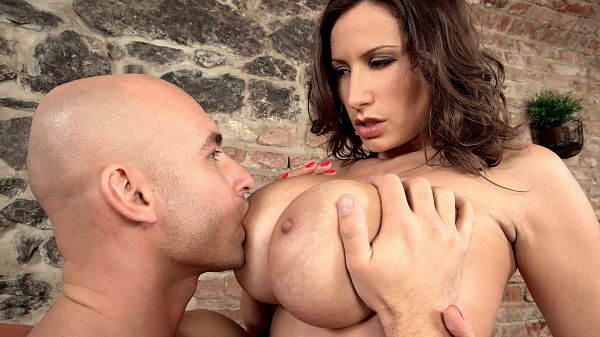 See dick in Jane and Jane on dick and see why Sensual Jane is one of Europe's greatest porn star bra-busters.

I once wrote, "Sensual Jane enjoys putting on a show before she gives her fuck partners what they're eager to get their hands on. She teases an impatient Neeo and enjoys the mental torture she's inflicting on him. For this occasion, Jane is wearing a bra, panties, stockings and sky-high black heels that she's picked out for this shoot. She gets off on formally presenting the beautiful, slim and stacked body that she has to offer."

And then Neeo, a first-rate stud, jumps her and humps her. And Jane humps back, which a lot of porn stars don't do. I'm the first guy to appreciate a girl being a living fuck doll in a scene, but I also appreciate a horny girl who's as aggressive as the guy or even more aggressive. Sensual Jane, Sharon Pink, Patty Michova and former European porn star Zuzanna are like that.

SCORE first filmed Jane during a European road trip. We didn't get hardcore videos for whatever reasons, just girl-alone content and a hardcore photo set. When we upped our Euro shoots, Jane was one of the first on our list and she's done some hot scenes for SCORE since then. Her tits are also bigger than when we first met her.

"Jane is very outgoing and sociable," our photographer Jose told me. "Jane would ask me questions about Miami, SCORE and modeling. She'd seen SCORE and Voluptuous magazines a few times, although they can be hard to buy in eastern Europe. Jane contacted us and wanted to model for SCORE. I had the impression that she'd like to visit South Beach one day."

From what I've heard from different photographers, Jane retired from porn. If she did, I hope she makes a comeback one day.