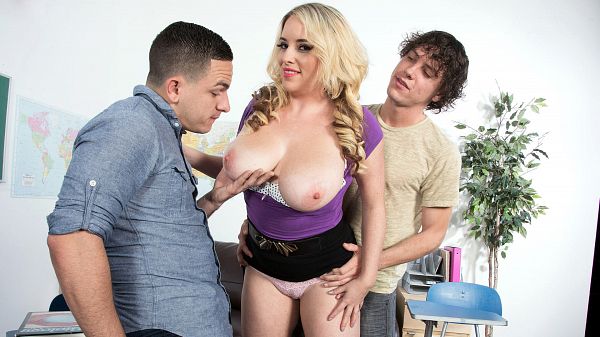 Maggie Green, who for the longest time wouldn't even take off her panties and show her pussy, gets her pussy fucked by two guys in this scene, perhaps her hottest ever. She also sucks cock while getting fucked, so it's fair to say that this girl-next-door has become quite sexually liberal over the years.

I really enjoyed Elliot's description of this scene at SCORELAND. Here are some highlights:

"Today's sexology instructor is the curvy Maggie Green. The class is small, just two students who are eager to learn what Miss Green has to teach. She begins by reviewing the words commonly used for breasts, asking her students for suggestions. One of the miscreants thinks it's funny while another tells Miss Green that his favorite word is 'pussy.'

"Miss Green senses a challenging student and asks him for pussy synonyms. 'Cookie,' 'cunt' and 'beaver' are what he offers. Miss Green thinks those are fine but she believes her class needs a more personal approach and tells him to come to the head of the class and 'give her pussy a feel.' What a great community college this is."

Ah, Maggie is so wonderful.

"I've been told I'm really good at sucking cock, and I love to do it, so I think if you really enjoy something and do it a lot, you're probably really good at it," Maggie said.

"Guys are always telling me I have good dick-sucking lips," she said. "I have a really long tongue, too. Did you guys ever notice that? I love spitting on cock and playing with it and shoving it down my throat. It's fun.

"I like having cum on my boobs. I like to have it in my mouth and spit it out and play with it on my tits."

In this scene, one guy cums in her mouth and one guy cums in her pussy. There's plenty to go around.
See More of Maggie Green at SCORELAND2.COM!