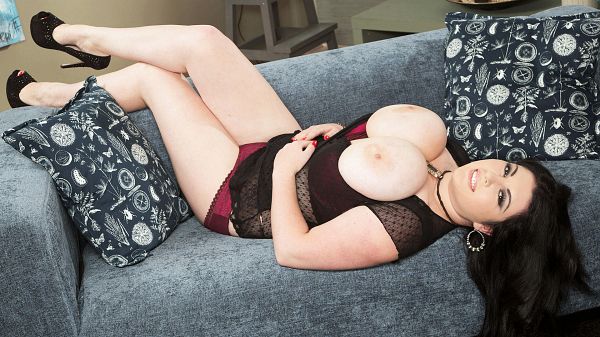 "Botticelli would have asked Maya to model for one of his paintings." I had a lot of nerve writing that comment regarding the Italian Renaissance painter who created The Birth of Venus, but the guy clearly liked beautiful girls and tits.

I sent Maya some questions and she replied from home.

SCORELAND: Do you have any funny habits?

Maya: Most likely it is constantly looking at myself in the mirror, in the phone screen, in the shop windows and in the mirrors and windows of cars.

SCORELAND: What size in bras do you buy? Where do you buy your bras?

Maya: I try to buy 75G-cup bras [European size] in lingerie stores. The size depends on the company. I need to be fitted by the saleswomen.

SCORELAND: Do you drive? Do seat belts fit you comfortably?

Maya: No, I don't drive. I do not have a car. Shoulder belts are uncomfortable for many women that have big breasts, but they must be worn for safety.

SCORELAND: Do you go to nude beaches?

Maya: No, I have no interest in those. There is a famous naturist beach in Odessa, but I live far away from it.

"The most fun I have had at anything is modeling," Maya said. "Every day I have posed for SCORE is different. I feel more comfortable every time and I have learned a lot. Maybe one day I will be part of group shootings like Arianna Sinn, Vanessa and other beautiful girls."

I hope that day comes. Maya would have been perfect for On Location North Coast.