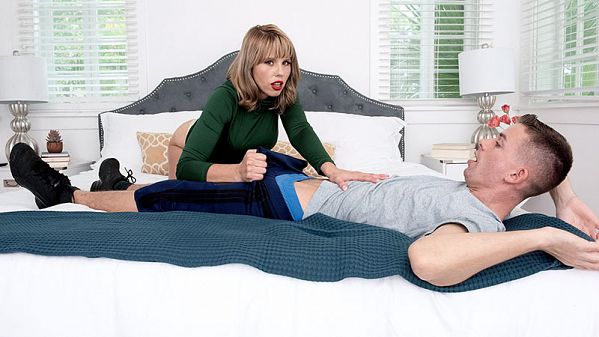 Amber Chase tells Evan that she's heard things about him.

"I've heard that you've never really been with a MILF. An older woman," she says.

He confesses that he hasn't.

"I'm nearly twice your age," Amber says.

"No way," he says.

She tells him he's 43. He says, "You're making me nervous. I think I should go."

"I think you should stay," she says, then she kisses him, then she feels his package. Then she guides his hand to her body.

"I want to convert you to MILFs," she says.

The conversion begins with a blow job and continues with Evan fucking Amber's pussy. It's easy for a woman to convert a man to MILFs when she looks like Amber with her beautiful face, curvy body and big tits.

Amber lives in Hawaii. She's married and has one child, a grown son. She enjoys nature and masturbating. When we asked her if she tends to be the initiator when it comes to sex, she said, "I can be either the initiator or I can wait for the man to make the first move."

Here, she makes the first move, and everything turns out just fine.