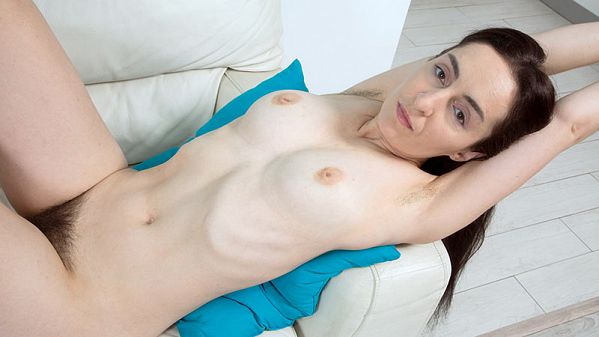 Occupation: Hotel clerk; Age: 34; Born: November 25; Ht: 5'3"; Wt: 105 pounds; Bras: 34C; Panties: Thongs; Anal: Yes, please; BJs: Swallow; Masturbate: Frequently.

You guys may remember the lovely Di from Minsk. If not, we'll catch you up on her backstory. We have a photographer friend who retired in Minsk, Belarus because his dollar stretches further and the girls are young, easy and want to be spoiled. Occasionally, he'll come out of retirement to send us some pictures of the crumpets he's fucking. That's how we got our hands on these photos of Bush Baby Di. "She was excited about being a western porn star," he said. When our anonymous photog friend started dating Di, he said that she shaved her pussy. "I convinced her to grow out her pubes. I'm already dating another girl with a shaved pussy, and I wanted some variety," he explained. "Of course, that's not what I told Di. I told her that I've never been a fan of shaved labia. She was happy to grow out her pubes to please me."

We featured Di in the Spring '18 issue of Newcummers. She had a great time seeing her pictures in the magazine and wanted to do it again. Our photog friend translated for us. "I felt like a real model," Di said. "I never thought I'd see myself like that. I looked so sexy! I felt a sense of pride in how I looked, and I bet all the guys loved seeing me."