Miss Brittany Andrews & The Cock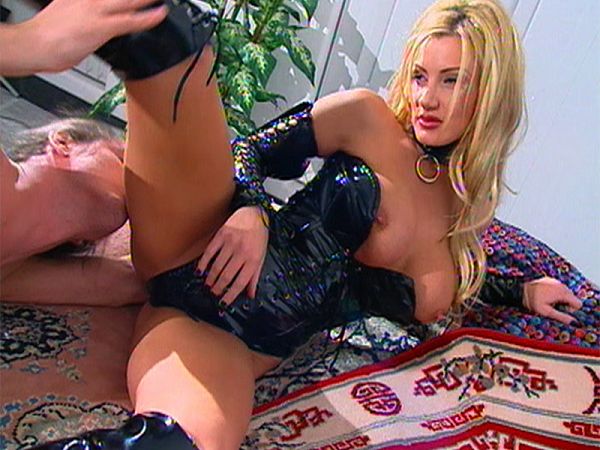 Brittany Andrews (or Mistress Brittany Andrews for some) was known for her freaky, fetish lifestyle and porn career from the start. Her position in fetish is apparent from the way she's dressed in the beginning of this raw scene. Her sex partner is wearing a bunny mask. He takes it off so he can eat out her asshole properly before he fucks her and jerks off on her breasts. This scene was photographed on February 1, 1996.

Prior to Brittany in her domina outfit fucking and sucking in this video, she was one of thirteen girls invited on the second Boob Cruise in August, 1995.

By mainstream porn standards, Brittany has very big tits. She didn't have the huge breasts of her sail-mates such as Minka and Busty Dusty but she was impressive in her own right, very sexy and well-liked by the passengers. Because of her style, sense of fun and dependability, she was invited back the next year for the third Boob Cruise in March, 1997 and then again for the fourth Cruise in March, 1998.

There is a 1998 photograph of Brittany wearing a pink one-piece swimsuit, pink scarf and sunglasses with the ship The Star Clipper in the background that John Fox considers an iconic Boob Cruise shot.

Rarely noted in the various stories about Brittany by adult magazine writers was her distinctive laugh. Even on a packed adult expo show floor, you only have to hear that laugh to locate her.

Brittany is still active in porn and fetish today, from producing, directing and starring in videos, many of them her own productions. She also appears in softcore movies and television and web shows. She was a columnist for Leg Sex magazine, documenting her leggy and fetish adventures.