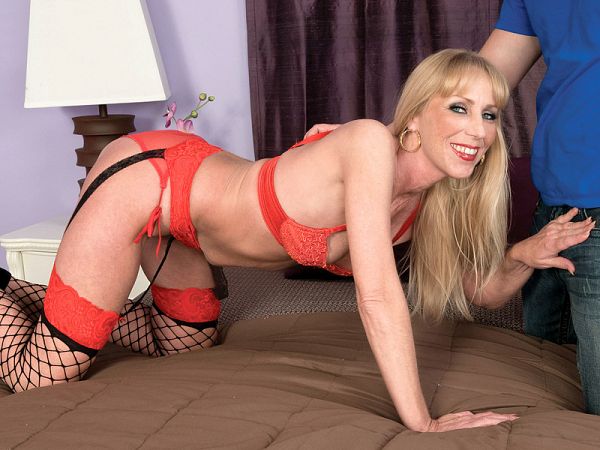 If you like your women classy and demure, then you came to the wrong place this time. In this scene, Phoebe Page, a 46-year-old wife and mother from Tennessee, is anything but classy and demure. She's nasty. Horny. Slutty. Ravenous when it comes to cock. She's wearing slutty fishnet stockings, the kind a hooker might wear, with a matching bra and panties. The panties are crotchless, the better for her stud to get to her pussy.

"I'm going to give you a blow job and suck on your cock," Phoebe tells Al. "Would you cum in my mouth? I want it in my mouth and on my face."

But first, Phoebe sucks his cock, and then she lies back so Al can eat her pussy.

"I love your tongue on my pussy," Phoebe says as she spreads her legs wide to provide Al with deeper access to the inner portion of her cunt.

Al fucks her pussy, then she sucks his cock some more. This time, she sucks him even harder and lustier than before, bobbing her head in rapid-fire motion on the cock that's still covered with her cunt sauce, and you know she's into it by the way she pinches her nipples.

"Are you gonna take my ass?" Phoebe finally asks.

Yeah, he is. And, of course, she finally gets what she wanted all along: cum in her mouth and on her face.

When a woman is like Phoebe, she always gets what she wants.