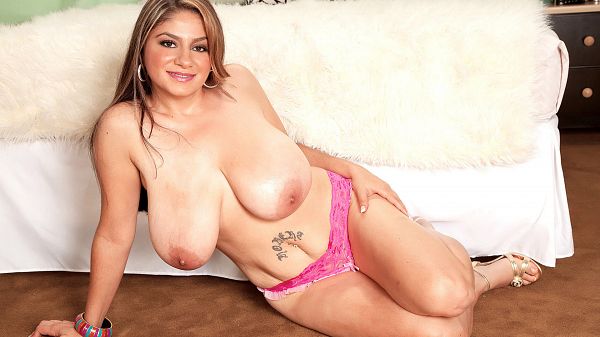 "When I was 18 or 19, there was no way I could do this, even though I thought about it," said F-cup natural Jasmine Shiraz, who was pointed in our direction by her boyfriend. "I've always liked to show off my boobs."

And we very much enjoy seeing this F-cup Jersey girl's big tits.

"When you've got it, why not show it off?" Jasmine said. "I don't understand why girls would be embarrassed. I've had friends who asked me why I dress the way I do. I tell them, 'Because they look good. Why should I hide them?'"

No reason, and good answer.

Jasmine was born in Iran. She went to graduate school. We've known all along that the brains/boobs prejudice was ridiculous, and Jasmine provides additional proof that busty girls can be smart, too.

"I don't know why they'd think they wouldn't," Jasmine said. "I guess when they see these, they forget the rest. I definitely have to prove myself a little bit more all the time, more than girls who have smaller boobs. I guess women bosses can be a little intimidated or distrustful of girls with big boobs, but there's no reason for that. I know they can be a distraction, but when I'm at work, I don't dress to show them off."

By the way, men do get stupid when they see big tits. That's a fact.