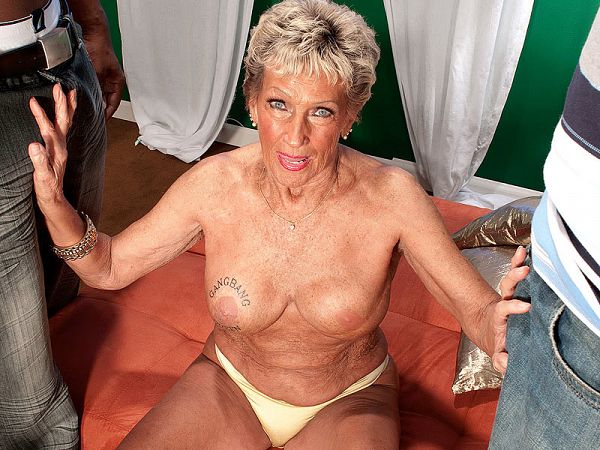 This video attempts to answer the oft-asked question, "Can a 76-year-old woman ever get enough cock?" In the case of Sandra Ann, our oldest MILF ever, the answer is, apparently, no.

The scene starts innocently enough with Sandra Ann thanking us for liking her. It's her way of saying, "Thank you for jacking to the photos of me deep-throating and fucking total strangers." And to that, Sandra Ann, we say, "You're welcome."

Then Sandra Ann, who has always been much better at action than talk, says, "I think it's time to bring 'em in!" Lucas and John show up, and Lucas asks, "What's up?" Sandra Ann, rubbing his crotch through his pants, says, "I feel something that's up. I'm gonna suck and fuck, baby!"

So Sandra Ann, who some prudes might think should be home needlepointing and watching game shows on TV, sucks one while jacking the other then sucks the other while jacking the first. She sucks hard and jacks hard then she gets on all fours to get fucked from behind by white cock while sucking more black cock.

"Oh, fuck, fuck that pussy!"

My, granny, what a horny, filthy slut you are!