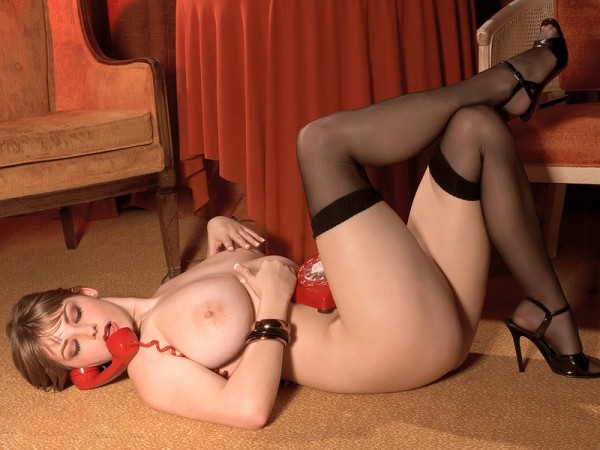 You may think that old-school phone sex in this era of Internet web-cam girls and Skype is a dead thing. What if I told you that phone sex ads have been published continuously in SCORE and Voluptuous for over two decades and are still being published? Phone sex, or audio text as it's blandly called by its operators, is far from obsolete.

Christy Marks not only has the body and face for big-boob porn, she has the golden throat, and this video is a good example of what I mean. Christy gets too horny by herself and needs to reach out and touch someone, at least verbally, with her sensuous voice and dirty mouth. Spanking her clit alone in her room doesn't give her the fantasy stimulation she needs. She picks a number out of the phone book, gets her rotary phone out, connects with a dude named Ben and pulls him deeper into her telephonic fuck fantasies while she sticks her finger in the hole and dials until she cums.

Christy, who celebrates her birthday on October 13, is the perfect girl for this. She looks sexy in anything you can dress her up in, including vintage retro outfits like the one she wears in this scene. The photographer didn't need to give Christy any direction. Giving Christy direction just means turning her loose. She knows exactly what to do and has a highly erotic imagination. All the more impressive for a girl who grew up in rural Pennsylvania and was 18 years old when she first started modeling. She's a natural.

Christy definitely gave this guy an earful. Just to make it realistic, the phone was hooked up to another phone, and one of the male staffers talked to Christy during the scene. A little extra mind fucking is a good thing to get a girl hornier. What girl doesn't like to chat on the phone? Texting just doesn't do the trick.