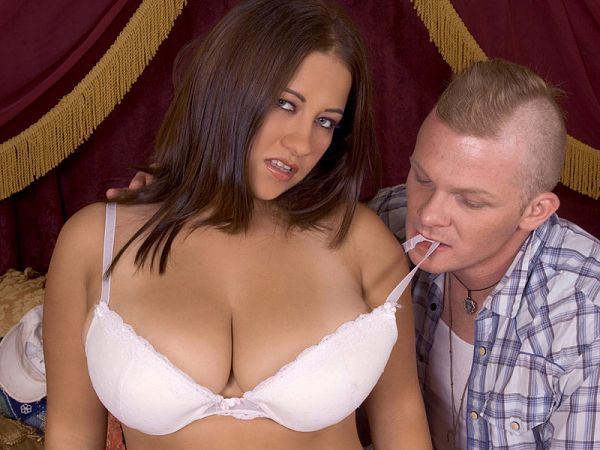 "I am a total freak in every sense of the word," said Alanna Ackerman, a busty brunette who gets the shit fucked out of her in this scene.

"I love sex whether it's sex for a video, sex at home or just casual sex on a spur of the moment meeting. I love it rough and I can take big cocks in my pussy. If a guy knows how to work it, size doesn't always matter. Race isn't an issue for me. I love men of all races and nationalities."

As the scene opens, fast talking JT sees Alanna in the park and makes his move immediately. She's wearing a tight, low-cut top that would make any tit-man's dick stand at attention. Her huge, natural blouse-balloons are a beacon, a lure, a GPS for a breast-lover's compass. JT moves quickly.

He walks right up to Alanna and introduces himself, talking trash a mile a minute, guiding her to his lair, his pad, his crib. It doesn't matter what he says as long as he gets the intent across. Objective: get her over to his place and shove his cock in her sweet, wet hole.

Some chit and some chat back at his fuck-pad and Alanna is lifting up her top, pulling on her nipples and letting him paw her bountiful breasts. Nature takes its course and before long, he's fucking her mouth and meaty cunt with his bloated pork-stick. It pays to just dive right in there and go for broke when a man sees a girl like Alanna Ackerman.