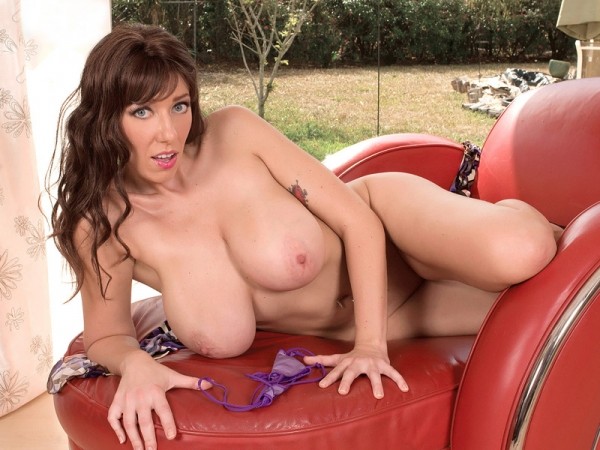 Alia Janine's got a big toy, and she likes to use it.

Slinky brunette Alia starred in the DVD Mamazon, a feature film about a tribe of hot jungle girls discovered by male explorers, shot on-location.

Alia started photo-modeling after she began dancing in topless clubs. That's always been a natural progression for many girls. They get comfortable showing their bodies on-stage to guys, and it doesn't take long for many of them, but not all, to want to try expanding their resumes to pictures and videos. Almost all of the original models in SCORE were exotic dancers.

"Growing up, and even before I started dancing, I was always pretty much of a tomboy," Alia said. "And then when I started dancing, the other girls would say, 'Oh my god, your boobs are so big!' and I didn't think they were as big as they really are. I mean, now I realize it, but then I didn't. I'd see girls with fake boobs and say, 'Your boobs are a lot bigger than mine,' and they'd say, 'No.'"

Alia claimed she was a geek. I dispute that, but who am I to argue with a lady?

"I'm more of a geek than a nerd," Alia clarified. "I'm a member of three honor societies. I had a 3.65 GPA in college. I like to read. When I watch television, I watch Discovery Channel or The Learning Channel or The History Channel."

In this video, we see what a brainy babe does with her not-so-little friend. Best of all, the toy doesn't have a hairy ass blocking the view of Alia's squeeze box as it pumps into her.