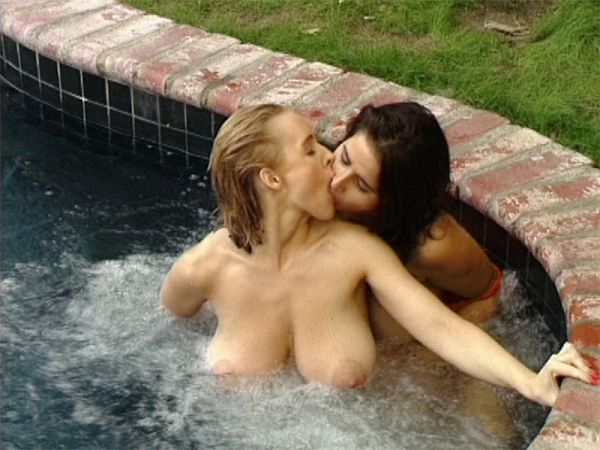 Danni Ashe and Chloe Vevrier are in Palm Springs, California and the game plan was for them to get very chummy and as close as two bosom buddies could possibly get. That took exactly no urging and there was no hesitancy on their part to whip out their long tongues. Both busty morsels were specialists in pussy licking and breast play. They love the female body, the feel, the scent and the taste. Danni started their carnal coupling but Chloe was the physically dominant one, as she almost always was in her Lesbian scenes.

Danni always thought big. She was a pioneer in mail order, and when she moved to the web, she was one of the female pioneers in the adult entertainment part of the web. In 2001, Danni told Frontline: "I think what I'm doing is helping to reverse some of the sexual repression that we have in this country about nudity and about sex. And I'm not a psychiatrist, but it seems to me, the more you repress your sexual feelings, the more they're going to pop up somewhere else in a really unhealthy way. In our culture, we repress a lot of sex, and we repress our anger, and what you see coming out is a lot of violent pornography. And, you know, it's my theory that that's a direct result of our culture's repression."

Danni kept to her soft-core and girl-girl shows and retired after selling her company in 2004. In 2013 she filed a lawsuit against the Daily Mail Online in the UK for using her picture without permission in a story about a porn industry shut-down when a female performer tested positive for HIV. The case was eventually settled in 2017.
See More of Chloe Vevrier at SCORECLASSICS.COM!