Rachel & Candy's Big Tit Lesbian Toy Play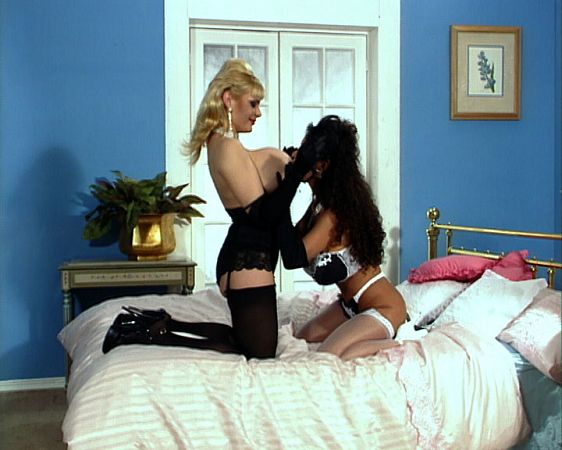 Candy Cantaloupes is the submissive in this scene with Rachel Rocketts, the take-charge girl. It was filmed in London near the end of Candy's career and the beginning of Rachel's. (She's still dancing a few days a week in Michigan as of this writing.) The long gloves, the huge hair, the super-sized tits and the bush between their legs tags this as a shoot from the Big '90s.

Uncut and digitized straight off the original 32 minute tape, this scene was later edited to 12 minutes for a home video release. The girls joke and laugh in the beginning before getting down. There are other moments when the girls laugh and look at the camera. All of that and more was removed by an editor.

If you've seen a number of SCOREClassics.com videos, you'll note the major difference in direction and composition. Rachel and Candy's director/cameraman is not close to being as authoritative as the studio's main director and the camera placement is completely different.

More of a cameraman than a director, the man behind the lens is also not breast-oriented and is more interested in pussy, pussy licking and vibrator fucking. There are some creative close-up angles of Rachel's lubed, thick-lipped pussy getting the toy treatment.
See More of Candy Cantaloupes at SCORECLASSICS.COM!