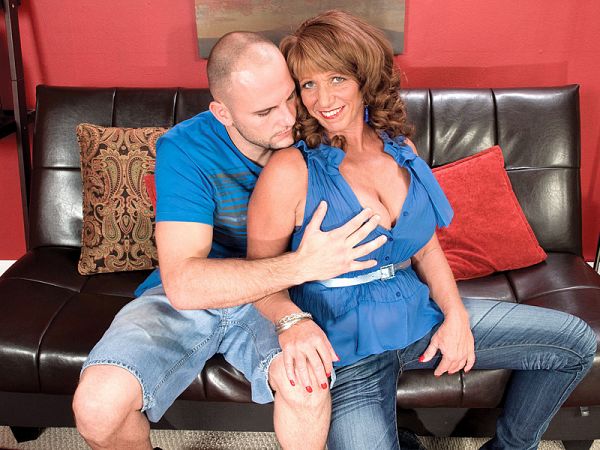 "Sometimes I wake up at night and I find myself playing with my pussy," said 53-year-old Sheri Fox, who has a nice patch of red pubic hair atop her cunt. "Usually I'll just rub myself until I cum and fall back to asleep, but sometimes I'll grab a big, fat dildo from my nightstand and fuck myself with it."

In this scene, Sheri gets the treatment from a big-dicked stud who's half her age.

"Let me rub that big ol' cock," she says. "Give it to me. Rub it on me, baby."

Then she offers up her tits, which are bulging out of a lace push-up bra (not that Sheri needs any pushing-up; her tits are big and firm).

"Take it off for me," she says, writhing, wanting to get the action started. "Rub that pussy for me."

Sheri's a horny old slut, isn't she?

JMac takes his cock out of his pants.

"Do you know what I wanna do with that?" Sheri says. "I wanna put that big ol' cock in my mouth and suck it."

She does that. And she fucks it. He shoots part of his load on her pussy and part of his load in her pussy. The part that's on her pussy drips down her thighs. The part that's in her pussy oozes out. But what does Sheri care? She came. That's all she wanted.
See More of Sheri Fox at CREAMPIEFORGRANNY.COM!