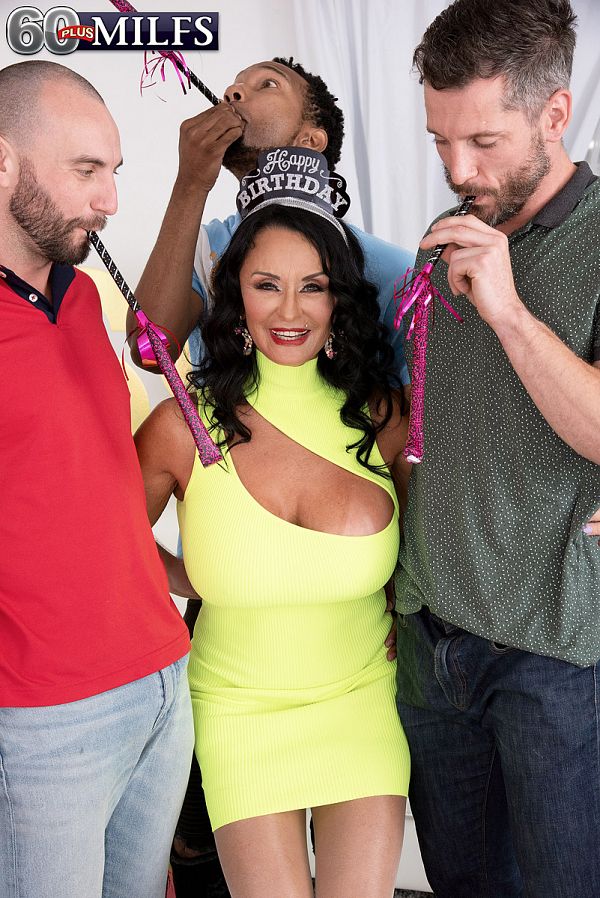 The scene you're about to see--photos of Rita Daniels' first ever air-tight fuckathon--started with an email from Rita to our studio manager. Wrote Rita:

"I've truly enjoyed working with The SCORE Group. I wanted to bring to your attention that in June, I turn 69 and will have been shooting for The SCORE Group for 10 years. It would be awesome if you would wish to shoot me celebrating this memorable milestone.

"One thought is shooting an air-tight scene having three sexy young guys filling me up to a birthday climax! But whatever you choose is always fine with me. It is only a suggestion. Again, thank you so much for a beautiful 10 years with the best out there."

Only a suggestion? Although we have shot many DP scenes, including three starring Rita, we had never shot an air-tight scene in the history of The SCORE Group. But Rita's suggestion was one we had to act upon.

And so, better late than never (Rita turned 69 in June), here are the photos of Rita's first-ever air-tight scene: one cock in her mouth, one cock in her pussy and another in her ass at the same time. The guys are almost young enough to be her grandsons. One of them has a big, black cock. All three stuff her fuck holes and cum all over this hot granny's mouth.

"I thought it was amazing," Rita said after she'd been thoroughly filled and glazed. "Stirling, Mike and Scotty were absolutely perfect. They fucked me so good, they were totally in-sync and I got to do everything in the scene that I was fantasizing about. The only thing we didn't do was having one cum on my pussy, one cum in my ass and one cum in my mouth. Instead, they all came all over my face and in my mouth. But it was really good. I ate lots of cum and it was delicious."

Happy birthday, Rita! And happy 10 years at 50PlusMILFs.com and 60PlusMILFs.com!

Video tomorrow. It's going to be epic.