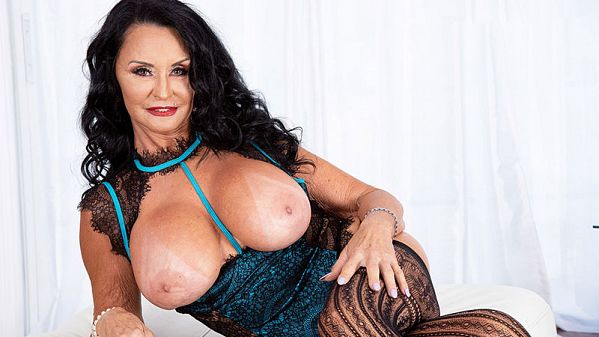 "They say at a certain age, women just stop caring about themselves, about getting horny," Rita Daniels says at the start of the video. "I wonder what age that is because I sure am ready for you, baby. I want your big cock. I can see it getting really hard in your pants."

Rita is 69 years old, and she clearly has not stopped caring about how she looks, and she definitely still cares about being horny. Her long, dark, luxurious, black hair is flowing over her shoulders. Her nails are freshly manicured with red nail polish. She's wearing sexy lingerie that shows off her big tits and tight body. Her stockings hug her long, curvy legs. This is a woman.

She takes out her tits. They're big and tan-lined. Very nice. She plays with her tits and spits on them. She spreads her pussy, sucks on a pink dildo then shoves it inside her pussy. She rides that cock toy with her pussy, then she says, "Do you wanna fuck me in my asshole?" She slides it in there, too, then she lies back, spreads her legs and fucks her asshole with the toy and her pussy with her fingers. When her fingers come out of her pussy, they're very wet.

"I'm definitely more of an exhibitionist on-camera than I am in real life," Rita said. "It all depends on where I am and what I'm doing. Sometimes I'm a real exhibitionist. If I'm out partying on South Beach, I'm totally different. But when I'm home and in grandma mode and having good times with my grandkids, you'd never know I was a porn star. I have a lot of different sides."

In this video, Rita is getting ready. By sliding that toy in her tight ass and her fingers in her pussy, she's getting ready for the action that starts tomorrow. Tomorrow, Rita will be air-tight: one cock in her mouth, one cock in her pussy and one cock in her ass. It'll be the first air-tight scene ever at our websites.

Are you ready for her?