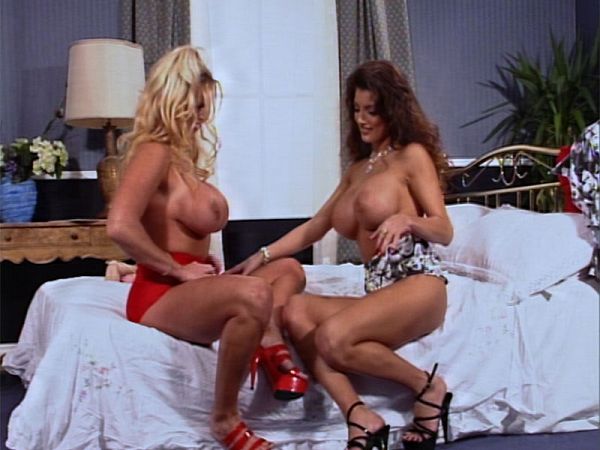 Rocki Roads and Erica Everest were two of the most popular and sexiest feature exotic dancers during the 1990s. There are no dancers like them today. It's a different situation these days with so many models sitting at home in front of a webcam instead of being on stage at local strip clubs.

Beautiful, slim and busty with perfect bodies, their pairing was very well-matched. They looked irresistible, the kind of girls who could get guys eating out of their hands, figuratively speaking.

This raw, unedited video shot in London begins with a familiar opening. After thumbing through a copy of SCORE magazine (cover date January 1996), brunette Rocki phones about the sex toys she's seen. No problem. A toy representative will be right over with a sampling of different dildos and vibrators.

Almost immediately, the toy representative in the shapely form of blonde Erica Everest shows up at Rocki's place. Now that the opening fantasy reason to bring these two into the same space has been created, Erica and Rocki pleasure each other with nipple and pussy licking and toy penetration in a horny, lengthy scene.

Rocki also did girl-girls with SaRenna Lee and Chloe Vevrier in London. Erica did a girl-girl with SaRenna and another with Ava Lustra, a mild bondage photo shoot with Colette Dupree and sailed on Boob Cruise #3 in 1997.

Girl-girl sex scenes were very popular during the 1990s. By the mid-2000s, that interest faded. As with any other kind of entertainment, public tastes and trends change quickly.
See More of Erica Everest at SCORECLASSICS.COM!