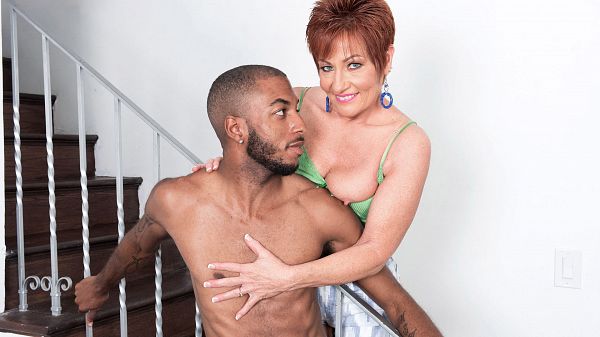 "I had had a couple of threesomes, and the guy I had the threesomes with moved away," said 56-year-old wife, mother and grandmother Ruby O'Connor from Arizona. "So he said, 'You need to join a swingers website,' and me and my husband did, and it was funny because the very first night we joined the website was a meet-and-greet and hotel takeover, so that was my introduction to the swinger lifestyle, and what was funny about that was I found out what a Sybian is.

"A Sybian is like riding a bull, but you have a cock on it that's remote-controlled. That was quite an experience! I didn't wade in. I went in the deep end! A girl just led me over to it, and I started riding it and was very turned on. I didn't notice at first that everybody was watching, but it was an exciting adventure. Later that night, I had a threesome with my husband and another guy."

Today, Ruby's adventure is sucking and fucking her first big, black cock. The guy with the BBC is 22 years old, so there's the older woman/young man factor, too. It all adds up to a great scene that climaxes when John shoots his load on Ruby's pussy, which has a little bit of hair. It's not a full bush. It's not fully shaved. It's nicely trimmed, and John really creams it.

Good for him. Better for Ruby!