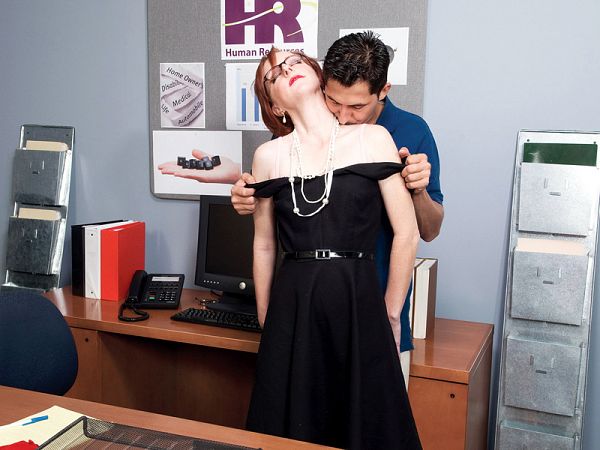 In real life, Layla Redd, a 41-year-old divorcee from Maryland, is an educator. An assistant principal in a high school. At least she used to be one. She lost her job.

Here, she's a boss at a big company. Unfortunately, times are tough, and she has to fire some of her employees. Unfortunately for Juan, he's one of the ones to go. Fortunately for Juan, he's going to get a goodbye fuck before he leaves. No wonder the unemployment rate is so high! Men are getting fired on purpose so they can fuck their sexy female bosses on the way out!

Okay, that's probably not the reason. But if Layla were your boss, it could be the reason.

"I'm a swinger," Layla said. "I love having sex with other men and having my boyfriend watch. I dress conservatively because I had to at my old job, so a lot of people would never guess at the real me. They'd never think that I would pose nude and have sex on-camera."

Layla has perfect B-cup tits that she covers in those conservative clothes. Not surprisingly, she always wears a bra. That's what keeps her tits so beautiful. Her hobbies are traveling, reading and "being lazy," but she says she likes men who aren't afraid to take chances.

In this video, Juan isn't afraid to take a chance. Layla obviously likes that about him. That and his cock. And if you're asking us which came first, her attraction to his cock or her attraction to his risk-taking, well, we just haven't thought it through that deeply. And neither should you.