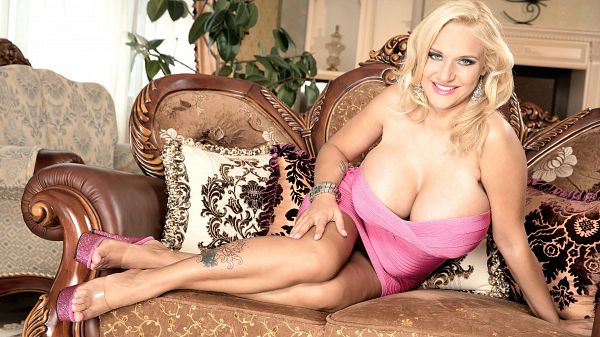 Right now at SCORELAND, the voting booths are open for the SCORE and Voluptuous awards, and one of the big questions is, will Dolly Fox win Model of the Year for the second straight year?

She might. She's a classic SCORE Girl with blond hair, big tits and a tiny waist, the kind of super-slim 'n' stacked babe who made the magazine famous back in the beginning. The difference is, none of those girls were Lithuanian, like Dolly is.

Elliot interviewed Dolly, who's as friendly as a girl can be. I know because I met her when she visited SCORE headquarters.

SCORELAND: Dolly, do you go to nude beaches or adult resorts?

Dolly: I go to adult resorts when I can.

SCORELAND: Do you dance when you are playing music at home?

Dolly: Yes, and I am mostly naked.

SCORELAND: Are you the kind of girl who wears high heels around the house?

Dolly: Yes.

SCORELAND: We thought so. What kind of swimsuits do you wear?

Dolly: Just the bottoms.

SCORELAND: Do you watch adult videos at home? What kind do you like?

Dolly: Yes, big bust videos, of course.

SCORELAND: Do you like playing sports?

Dolly: Yes, in the bedroom.

SCORELAND: Do you have any funny habits?

Dolly: Being horny all the time.

SCORELAND: Do you like to sing?

Dolly: Yes, but I think nobody wants to hear me.

SCORELAND: Are you called by any pet names?

Dolly: Tiger.

SCORELAND: What's it like for you going through airports with boobs that big?

Dolly: Security control seems to take a little longer!