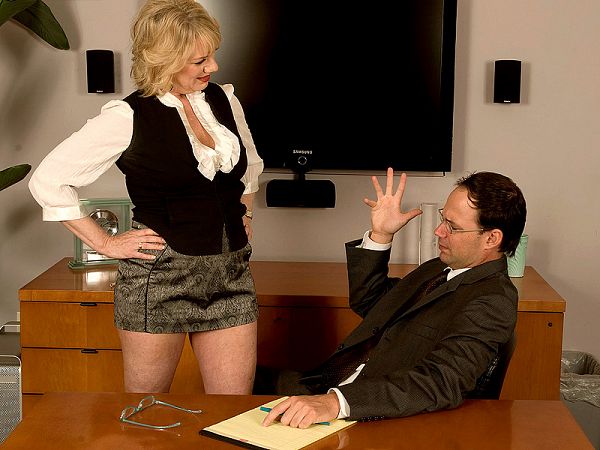 Now this is how you run a business meeting! You're the boss, but Sindy Swank thinks she knows what's best for your company, even though it's been in your family for 54 years. You tell her, "We're going to do things the traditional way," but she counters with, "These days, women have the power." Now you've got her exactly where you want her because she's gonna prove it. And how is she gonna prove it? You know how!

This 54-year-old divorcee from Virginia bends over and says, "Pull my skirt off," then demands, "Lick my ass, now!" She thinks she's teaching you a lesson in business, but this is exactly what your cock wanted all the time.

"Put four fingers in there," she demands. "Put four fingers in my pussy! Fuck me!"

So you slide four fingers into her pussy and when she says, "Keep fucking me! Don't stop fucking me!" the truth is you have no intention of stopping. Because soon, it's gonna be your turn.

So she gets down on her knees and sucks your cock and balls. By now, she thinks you're coming around to her way of running a company, but in fact, this is what you had in mind all along. She really stuffs her face into your balls, and then you fuck her mouth, pumping, pumping. When she sucks your balls, your rod brushes against her cheek, and if you don't get into her pussy soon, your balls are going to explode.

"Best fucking meeting we've ever had in this company," you say as you fuck her on the table, and this time, you mean it.

"Oh, yes, you're the best boss I've ever had!" Sindy says as your balls slap against her asshole.

Don't you know it.

"I'm proud of my cock-sucking skills," Sindy said. "I practice a lot."

She has sex four or five times a week and is very assertive. One time, she hosted a swingers party and only men showed up.

"It turned into my first gang bang," Sindy said. "But not my last."