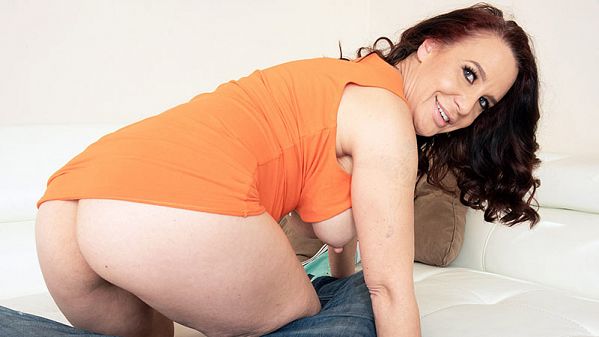 Cora Comfort is ready for action. She's wearing a sexy, orange dress that covers very little. Her tits are falling out of it. She's got her hands on the guy's crotch, and it might as well be your crotch because most of this scene is shot P.O.V.-style.

"So nice and stiff. I love it. Do you like this?" this 46-year-old divorcee says as she rubs her hands over her chest. "Do you like what you see?"

Damn right we like what we see, and so does the guy, judging by the bulge in his pants. Before long, that bulge in his pants is going to be his cock in Cora's mouth, then he's gonna be fucking her, spreading her ass cheeks wide, and then he's gonna cum all over those big tits of hers. You'd think Cora is a porn pro, but no, this is her first fuck video.

"My mom supports me in whatever I do," Cora told us. "She said, 'If you're going to be a porn star, be the best damn porn star you can be.'"

Thanks for the advice, Mom. Way to live up to your parents' expectations, Cora. These days, so many kids are such disappointments. Cora, who's no a kid, is very satisfying.

Cora lives in Las Vegas (born in Detroit, Michigan). We asked her if she's into women, and she said, "I'm addicted to cock, but if my guy is down to watch me and another girl getting together, I get off on him getting off, so indirectly, I'm into women.

"My husband was 19 when I met him. I kept telling him I was 29, but I was older, and then one day I said to him, 'I'm turning 40.' He couldn't believe it. But now I have a greater appreciation for older men because they know how to worship the goddess. As much as I love cock, as much as I'm a cum-slut, there's more to it than that."

Not here there isn't. Here, it's just about the fucking. Nothing wrong with that.
See More of Cora Comfort at PORNMEGALOAD.COM!