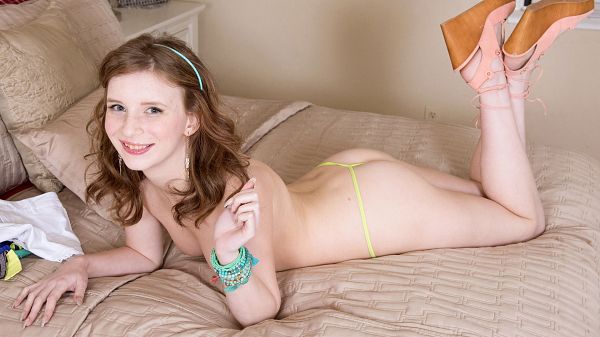 Occupation: Student; Age: 19; Born: January 8; Ht: 5'3"; Wt: 105 pounds; Bras: 32B; Panties: I usually go commando; Anal: I'd like to try it; BJs: Good girls swallow; Masturbate: Daily.

Lily graced the pages of a recent issue of Naughty Neighbors, but she sent in more photos and videos, and we weren't about to waste them by not posting them here. "My fuck buddy who shot my pictures fucked me really good after the last issue came out. I wanted to see if it would happen again," Lily explained.

"Since last time, I've become a little more serious with my fuck buddy. We're still not boyfriend and girlfriend because labels are stupid and only make things messy, but I started to catch feelings for him. We're not currently fucking anybody else. We wouldn't have time to even if we wanted! We're on each other, like, 24/7. I got on birth control just so he could creampie me, which is something neither he nor I had done before. It was so good, I was kinda pissed I had waited so long. Now I know why some girls accidentally get pregnant!

"I just started waxing my pussy. I've always been a shaver, but I decided to get it waxed for this photo shoot because I didn't want any stubble. I love the way it looks! I'm so smooth, and, even though I usually go commando, wearing silk panties now is a treat."