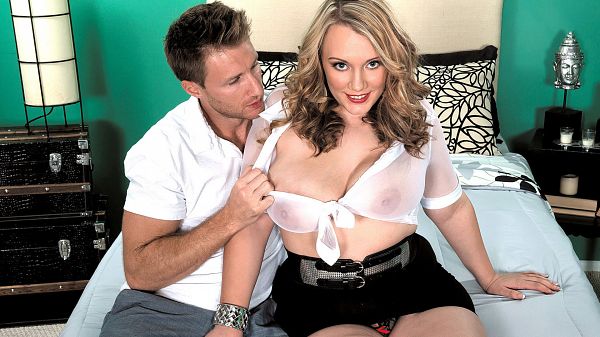 "I don't try to emphasize my boobs," said Voluptuous Girl Brandi Sparks from Ohio. "However, they always end up drawing attention."

Here, they draw the attention of our stunt cock. You know, sometimes we wait months, years, decades for a girl to fuck on-camera. Some girls never do it. Brandi? First day in our studio. Big tits, wet pussy, no waiting. We found her on a webcam site. Brandi was doing her thing.

"I can make a guy cum with just my eyes," Brandi said.

Well, that's what she thinks. She's looking at them with her eyes; they're looking at her tits with their eyes.

"I'm pretty simple when it comes to dates," she said. "I enjoy dinner and movies or even just staying in to watch a movie or play video games."

But there's a bad-girl side to this video gamer and Cincinnati Bengals fan.

"I love a guy who knows what he wants and takes it. I've had sex in a church parking lot, at a rest stop and at a state park."

By the way, Brandi calls herself a "professional masturbater."