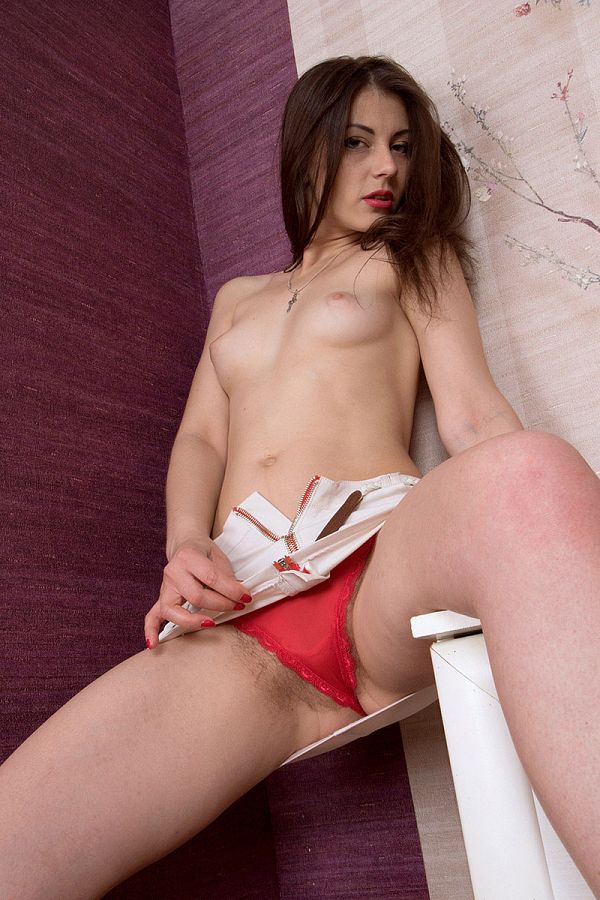 Occupation: Daycare instructor; Age: 27; Born: September 11; Ht: 5'5"; Wt: 108 pounds; Bras: 32B; Panties: Thongs; Anal: On special occasions; BJs: Swallow; Masturbate: Rarely.

"My boyfriend took these photos last Valentine's Day as a fun, kinky thing to spice things up," Dea let us know. "I bought a new thong for myself and a new camera for my guy. He had been barking up that tree for years, but I never felt comfortable enough with my body to allow him to shoot me, but I lost some weight after I gave birth and I was feeling frisky.

"My guy loves my bush. I'm kind of apathetic about it. I like it when I'm smooth, but I hate the itching when it grows out. When I'm really hairy, I like how much my boyfriend wants to eat me out because that's my favorite thing ever. The downside is that I don't want to wear my bikini because the hair pokes out.

"After we took these photos, we kind of got on a kick of shooting them. Every time we go on vacation now, we end up taking photos. We shot some hardcore fucking pics, but we're going to hold on to them for ourselves."
See More of Dea at NAUGHTYMAG.COM!