Sunshine In The Sun. Indoors For Hotter Fun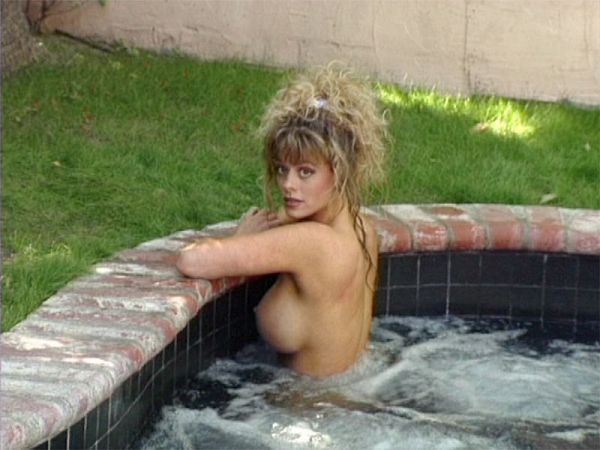 This was one of Becky Sunshine's first SCORE videos digitized from the original Betamax tape. It's raw and unedited with original audio, straight out of the camera. It begins outdoors in a hot tub pool with hydro-massage jets that Becky found pleasing.

"Should I ruin it for you and make you get out now?" asks the photographer/director. Becky exits the pool and walks to the bedroom where she changes into two-piece pink lingerie and gets into bed. The director knows exactly what he wants her to do.

Becky was a bikini model at first. She moved to southern California from a small town in the northern part of the state. She won a Miss Nude California contest and made her own video on a lark. A SCORE editor spotted her at the Video Software Dealers Association expo in Las Vegas in the summer of 1993 where she was selling her pictures and homemade videocassettes.

Becky was one of the first to systematically shoot and sell her own products via mail order and at adult conventions like Glamourcon. He got her contact information and sent it to SCORE's John Fox and John Graham. She made covergirl in her debut issue, March 1994. Becky made cover again for The Best of SCORE 1994 edition. This was impressive considering that Alexis Love, Rhonda Baxter, Wendy Whoppers, Lisa Lipps and other bra-busters were also in this special magazine.