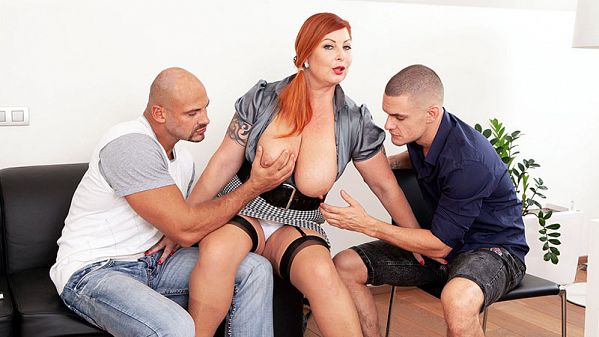 In this scene, 44-year-old Tammy Jean is an art teacher, and she's not an easy "A." This teacher is tough! One of her students shows up late, and she gives him the what-for and tells him to sit down. She's walking around with a pointer, flicking it all over the place, but she has another pair of pointers: her big tits.

Teacher Tammy is a redhead, and she's definitely fiery. The truth is, she's not very nice. She really bosses these guys around. Then one of them draws a picture of her boobs. These students don't know much, but they do know that they like teacher's tits, which are really popping out of her top. Nice cleavage, Teach. Then she unbuttons her top so they can see more. And that's when Tammy loosens up and the fun starts. Turns out she is an easy "A"...if "A" is for ass.

The guys suck teacher's tits, then she sucks their cocks, kneeling in the middle, sucking one then the other. They fuck her pussy and ass, and then they mount her for a hard DP session. Yep, Tammy Jean is getting DP'd in her very first fuck at 40SomethingMag.com, and she ends up with a big load in her mouth and on her face, dripping down her chin and onto her tits.

Tammy is from the Czech Republic. She's a nurse and a camgirl. She's a divorcee and a mom. She has sex at least twice a day, often with much-younger men. She's had sex in public places. She's a rising porn star. She definitely got a rise out of Matt and Max.