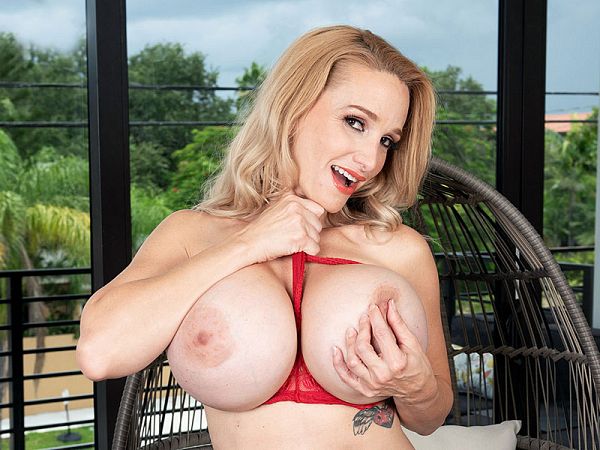 Billi Bardot, a 41-year-old MILF, has on sexy red lipstick and a short dress that shows off her tits, although Billi is so stacked, just about everything she wears shows off her tits.

"I love the way this dress feels," she tells you. "It's so soft and shimmery. I was going to go out, but there's a storm brewing, so I guess I'll stay in and enjoy myself."

There's gonna be a storm brewing in your rapidly tightening pants when you get a look at Billi. She's a knockout blonde with a curvy body: small waist, beautiful, round booty.

"And I have these huge 32M breasts right here that I love playing with," she says. "They're so soft and squishy."

In Billi's first video at 40SomethingMag.com, the camera savors all of her beautiful body, including those soft, squishy tits. We get slo-mo views of Mrs. Bardot playing with her rack, running her hands all over her tits, then Billi sits down, lies back and fast-fingers her very wet pussy until she cums.

Billi, a mother of five, describes herself as "one of the guys," but she's all woman. She used to be a dancer.

"Usually I danced during the day while the kids were at school," she said. "So the kids were at school and Mommy was getting naked in the strip club. Making a grand then going home and baking cookies and serving dinner and doing the homework and bedtime routine."

Wow!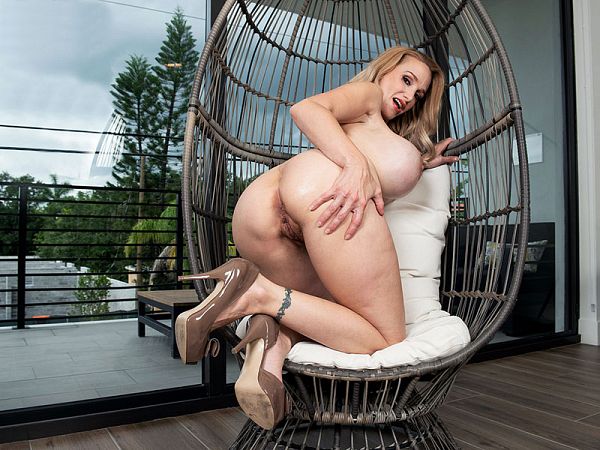 See More of Billi Bardot at 40SOMETHINGMAG.COM!