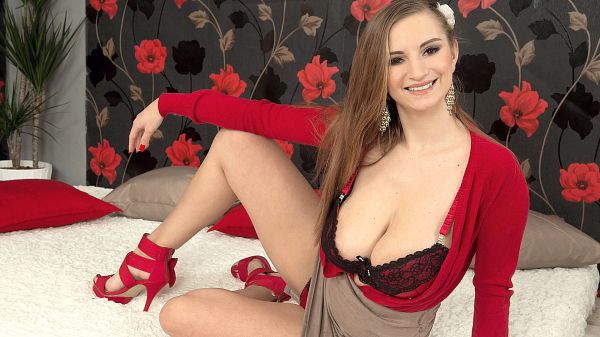 Suzie Sun was a 22-year-old brunette with a very slim, busty body when she debuted at SCORELAND. One of our photographers in Germany found her. She came from a small Czech city that borders Slovakia. Fresh off the bus, as they used to say.

Suzie reminded me of Jessie Simmons, another Czech who adopted an Anglo modeling name. "Suzie's natural beauty is destined to make her a star. Can't wait to see her next shoot," wrote a SCORELAND member. Suzie was definitely a cute little package, but stardom is a brass ring on the merry-go-round.

After talking it over with our shooter, Suzie decided to try hardcore with studs.

"I don't have a lot of hobbies," Suzie said. "I don't watch sports or like them. I like sleeping and walking my dog. I don't think I have any special skills or talents.

"About sex, I just like normal sex. Real sex. Nothing kinky or strange. I don't care for crazy sex things or things like pain. I'm just a regular girl."

Some, not me, might say that doing porn is kinky in itself. All girls have their little secrets behind closed doors, and I'm sure Suzie has hers.

Suzie is old enough to have had some experiences and young enough to want more. I can't say whether Suzie has had her fling and is done or if she's still into doing more. No guy will ever know what a girl plans to do.
See More of Suzie Sun at SCORELAND2.COM!