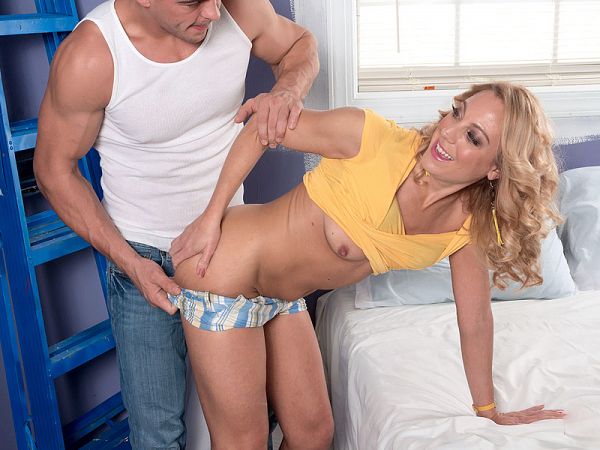 Charli Shay, a 42-year-old newcomer, is on the phone with her husband and eyeing the guy who's painting her house.

"Don't worry," Charli tells her hubby. "He seems to be a really nice guy. I'll make sure he gets it all done."

Meanwhile, she's grabbing the painter's ass and groping his crotch, and she's wearing short shorts that barely cover her tight little ass. When she hangs up with her husband, she says to the painter, "Don't act like this has never happened before."

"No, never," Johnny says.

Looks like the first time's gonna be the charm for Johnny, who's about to lay the wood on a 42-year-old with the body of an 18-year-old. Within seconds, Charli is down on her knees, transferring his cock to her mouth, and before long, the painter is dipping his mixer inside her tight pussy and leaving his drippings inside. Of course, the cum doesn't stay inside long because Charli lets us watch it drip out of her pussy.

Charli is a 42-year-old divorcee (nope, she isn't married) from San Diego, California. She works in a gym and a photo studio. She's the mother of two girls, which explains why she has time to have sex only once a week. She's not a swinger. She's not a nudist. She's just the MILF-next-door who's letting out her wild side at FlatandFuckedMILFs.com...drip by drip.
See More of Charli Shay at FLATANDFUCKEDMILFS.COM!