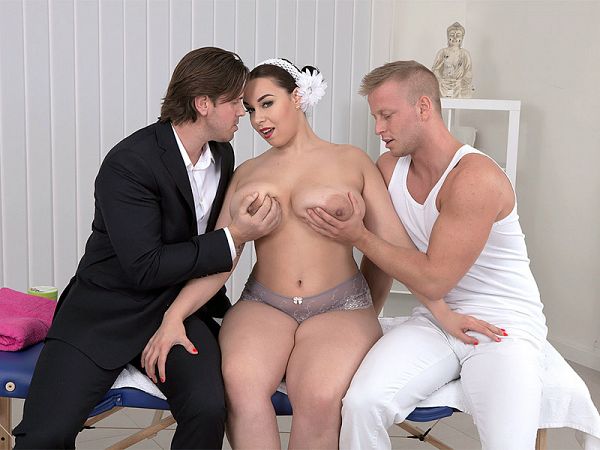 "Some comments made by fans online on websites and social media....I find it hilarious how they worship me as if I'm a sexual goddess when I'm actually a very simple, normal girl."

So says British babe Anastasia Lux, who is neither simple nor normal. The girl has H-cup tits, a small waist and flaring hips. In other words, an hourglass figure. That's not normal. That's something most girls don't have.

"Watching my own scenes turns me on," she said. "I also learn from them so I can get even better."

In this scene, Anastasia goes for a massage. The masseur asks her to take off her bra and lie on her stomach so he can work on her back. But he quickly works his way up her legs, which are not her back, and before we know it, Anastasia is getting very turned on.

Then another dude walks in and catches them in the act. But the action doesn't stop. A normal, simple visit to a massage parlor suddenly becomes a three-way in which Anastasia is sucking cock and getting fucked.

"Bigger is better," Anastasia said, echoing our thoughts exactly. "I'm a very driven person, so I can self-motivate myself to achieve more. Physically, I enjoy being naturally curvaceous with a nice silhouette that emphasizes my femininity."

The girl is the epitome of femininity. Simple as that.
See More of Anastasia Lux at SCORELAND2.COM!