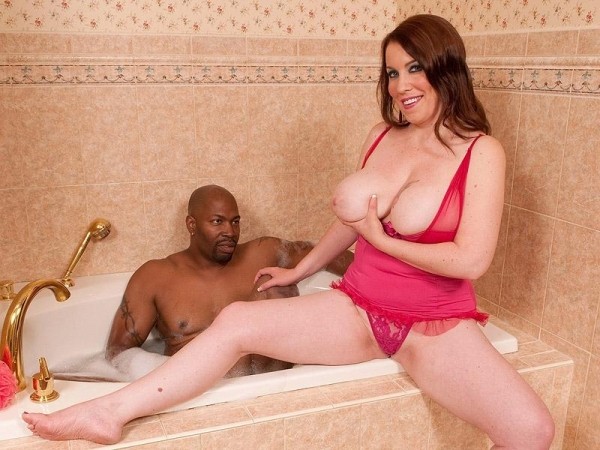 "Most men want to look in my eyes, but they get stuck around my tits," DDD-cup redhead Desiree said. "Guys compliment me on my eyes, but I know they are not looking at my eyes. They are always looking at my boobs. I look at their faces, but they are not staring at my eyes."

But Desiree forgives you.

"I guess if I were a guy, I'd stare at my tits, too!" she said.

The story has already been told about how Desiree debuted in Voluptuous magazine in 2001 and dropped out of sight for years. What I don't think has been told is that Desiree tried topless (and bottomless) dancing for a while then went to school and got her degree in criminal justice.

"I wanted to be part of the NYPD [New York Police Department]," she said. "I wanted to be a cop."

You gotta love the idea of getting frisked by a busty babe like Desiree. In this scene, lucky Lucas gets frisked and jacked and tit-fucked by Desiree in a bath tub. Desiree's tits get all wet and sudsy. Then they get cum upon. She calls Lucas "Master" a lot throughout the entire scene.

You know, being a police officer is an honorable profession, but being a big-boobed model takes a special talent that very few people have. Desiree might not be one of New York's finest, but she's certainly one of SCORELAND2's finest.
See More of Desiree at SCORELAND2.COM!