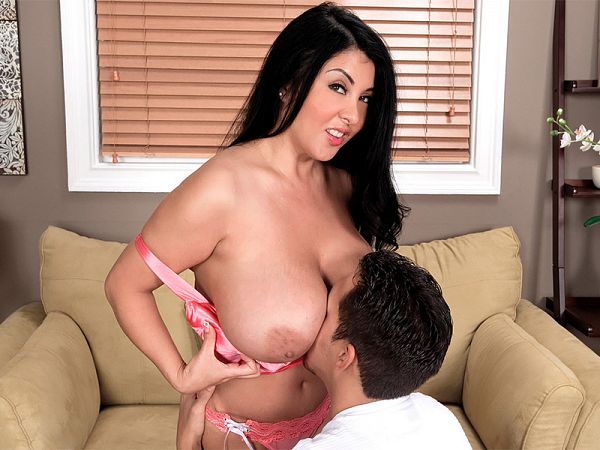 Daylene Rio enjoys pummeling guys' faces with her tits, just one of her many titty talents. If you saw her threesome with Sara Jay, or any of her previous SCORE sexcapades, you know how horny this little silky-voiced Latina charmer is. Daylene isn't just an all-right chick. She uses her left hand too. Her first T&T was a few years back when she was just getting her nipples wet in the big-bust world but she already knew everything about giving a man a happy ending with her boobs while the camera rolled. That alone is a solid reason to propose marriage to a girl like this, given the opportunity.

While Daylene may be wearing a bra in the opener, she generally likes going braless except when she's at the gym. "I have to wear a bra when I workout," Daylene said. "I hate wearing bras. Working out is about the only time I wear a bra." This is a workout of a kind; the Tits & Tugs Workout. Daylene also has a talent for bouncing her boobs hands-free which you will also see in this video that combines her hands-on aptitude with tit-fucking and a blow job. This is a Tits, Tugs & Tongue special and Daylene has a firm grip on things, a deep cleavage canyon to bury any size meat-axe and a wet, sucky mouth.

With a girl like Daylene kneeling before you to get her jigglers coated with a huge load of jack salsa, all's good with the world. She even thoughtfully notices that there's a little bit left that she didn't get on her tits and squeezes out the last drops out of the cock like it's a tube of toothpaste. Now that's what we call dedicated and caring. "I like nice cum, nice loads of cum all over my tits," is Daylene's motto and she lives by those words. Daylene Rio: a woman we love at SCORE.