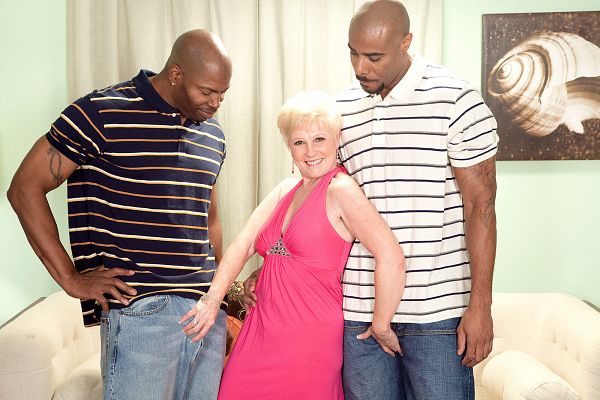 "This is a big day for me," Jewel says at the start of this scene. "I've just had a fantasy forever to have two guys with big cocks for me to suck and to fuck. And I think I've got the right two guys!"

Two guys with a hard-on? That'll do for Jewel, who, as usual, looks so classy, so Southern belle-like, but before long, she's rubbing Lucas and Asante's crotches and then she's eating their cocks.

"There are times when the thing I most want to do is just suck cock," she told us. "Not fuck. Not kiss. Not have my pussy eaten. Just suck cock. It's very enjoyable. And suck balls, of course. When I'm sucking a guy's balls, I can tell by his response if that's a particularly sensitive area, and if he likes it, he's going to moan or breathe heavier, and I can feel the twitch in the cock, so it's a matter of exploring and finding out what feels good to the guy whose cock you're sucking."

Jewel takes turns sucking the guys' dicks, and when her old pussy is getting fucked by one dick, she's sucking the other one, and wouldn't you know it, these guys fuck the class right out of Jewel.

"I've been called a slut," Jewel said, "and I got upset because I thought the guy was demeaning me, but the gentleman explained, 'No, that's not it at all. You are the most classy slut.' They love the connotation of slut, but they wouldn't want a slut unless it's their personal slut."

Got that?