Vicky Feels Those Good Vibrations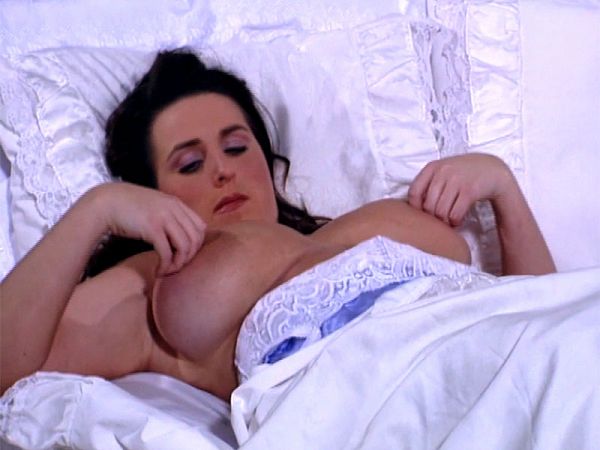 Voluptuous natural Vicky first posed topless for England's Sunday Sport tabloid newspaper. She made her way to the SCORE Group's London studio in November, 1998 and was asked if she would appear in a vibrator masturbation video.

Vicky's first magazine was January 1999 Voluptuous. Vicky was the covergirl. Charlotte, a Spanish model named Belinda, Gillian (who was to reinvent herself as Samantha Sanders a few years later), and Americans Deanna Baldwin and Heather Michaels also appeared in this issue. Vicky subsequently appeared in three more editions of V-mag.

The video begins and ends in bed. Vicky "wakes up," takes off her pajamas and rubs her big, fleshy breasts and hairy pussy. She lubes a giant cock-shaped vibrator and, taking direction from the photographer, sticks it in all the way. As she works it in and out, she squeezes her tits while he exhorts her to cum.

In a one-page bio she wrote before leaving the studio that afternoon, Vicky mentioned the dildo play. "I use a vibrator at home. Using one in front of a cameraman at first made me feel self-conscious but your staff was quite solicitous. I never placed one between my breasts before. That was quite a new experience!"

Vicky was the kind of girl we don't see often now, twenty years later. She was an everyday, stacked woman with an ordinary job and not much of an interest in professional modeling as a lifestyle. She was not a stripper or an online, at-home webcam model out to conquer the world.