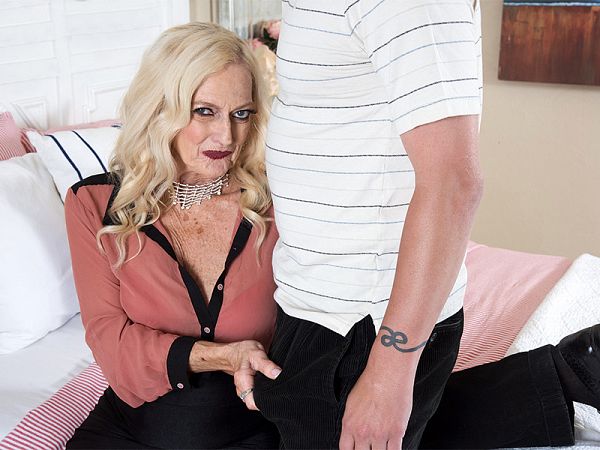 Layla Rose, a 68-year-old divorcee, mother and grandmother, is having an open house, and Eric has come around to see it. We don't know about the house but Layla looks great in a tight blouse that hugs her nicely shaped tits. She's obviously horny. She shows him the kitchen and can't stop touching herself.

"Do you happen to be married?" she asks him in the first of several suggestive questions and comments.

"Do you want me to show you the bedrooms?" she asks him in the second.

"Honey, it's big," she says referring to the house, we presume, not his cock, in the third.

When they go upstairs to the bedroom, he asks her why she's selling the place.

"My kids have grown, and it's time for me to blossom out," she says.

"What do you mean by blossom?" he asks.

"Let's take these pants off and I'll show you." And that's not suggestive at all.

Layla is a swinger who's into men and women. She likes being watched while having sex. One time, she was in a swingers club and fucked a girl in a wheelchair with a big, black strap-on. She likes fucking younger men and women. It would be easier to list the things she's not into and hasn't done.

We asked Layla if her family knows she's here, fucking for all the world to see, and she said, "Oh, yeah! My granddaughter helped me pick out my clothes. I brought her skirt along. And my daughter got me a few things to bring along. I'm an escort, and she is, too. I always taught my daughter that she should be proud of her body, and she is. Most of my family knows what I do. This is a great experience, and I definitely recommend it to any woman out there, old or young. You only live once. Live your life to the fullest. That's what I've done!"
See More of Layla Rose at SILVERSLUTS.COM!