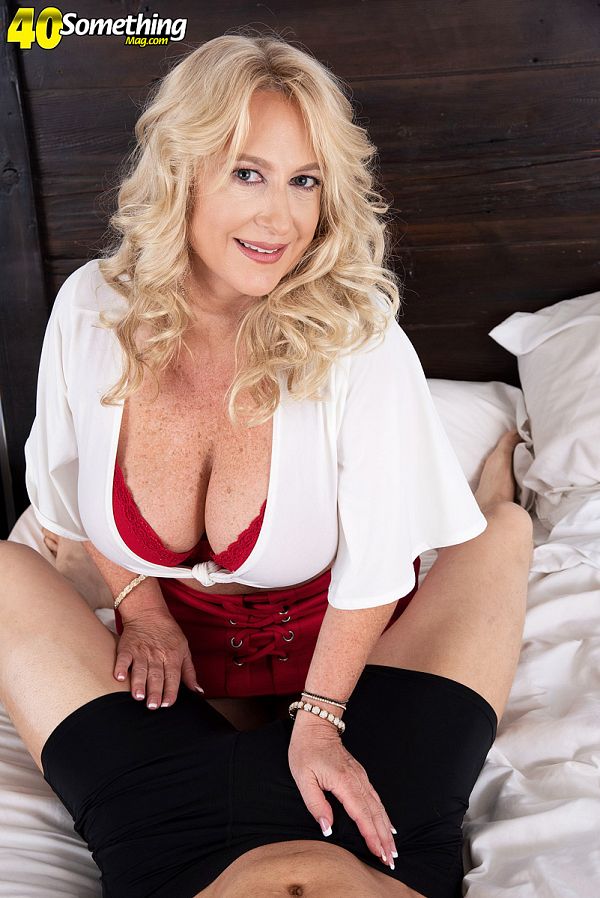 Nina Bell, a 48-year-old divorcee and mom, walks into her bedroom and finds a guy lying in her bed, jerking off. And who's the guy who's jacking off in her bed?

You! Yes, you, 40SomethingMag.com member. You're the one with your dick out, stroking it like crazy under the sheets...Nina's sheets.

"What are we going to do about this young man?" Nina says. "You've got stains on my bed!"

Uh...sorry about that?

"It's not appropriate," she says. "You're jerking off in my bed."

But here's the thing: Nina doesn't run away. She doesn't throw a shit fit. She doesn't even tell you to put your cock back into your pants. Instead, she says, "I can help you, but I think you can help me, too."

This scene was shot almost entirely from your point of view, so you're the one who's playing with Nina's big tits and it's your cock she's sucking and fucking and you're the one shooting your load all over her pretty face. As point-of-view scenes go, this is a heckuva good one.

That's because Nina is a heckuva great MILF, even though she had never fucked on-camera before she came to us. She's a webcam model from Malibu, California who's 5'1" and weighs 133 pounds with DDD-cup tits she loves to show off. When this scene opens, she's wearing a halter top that displays a lot of cleavage.

"I like to let the girls breathe," she said. "If I'm going out, I also like a very low-cut, sexy dress, a G-string or thong panties--or maybe no panties at all--and a pair of heels."

Nina wants to travel to Fiji and Australia, explore Egypt and the Amazon and go zip-lining.

Perfect date: "I like the beach. Anything outdoors or near the water. Sporting events like football, baseball and hockey games. I love miniature golf and real golf. Or just hanging out at a local pub, having a drink and relaxing."

But how can a man relax when Nina and her big, beautiful tits are right in front of him? That'll get your heart racing.

"I have so many sexual fantasies," she said. "Sex with someone famous, like a movie star or athlete; sex with a young man and having his wife or girlfriend watch; having sex in front of an ex-boyfriend. Swapping partners. Role play. Domination. The list is endless!"

Fucking Nina is our fantasy. It just about comes true in this scene.
See More of Nina Bell at 40SOMETHINGMAG.COM!