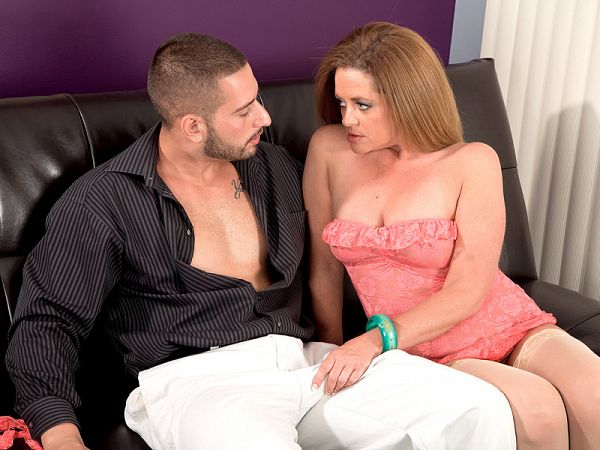 Jamie is a hard-driving, bitchy boss, and she's making a lot of demands. This poor guy has a lot of work to do and not much time to do it, but he's distracted by Jamie. You see, she's sitting in the office in a very unprofessional manner. Her legs are crossed, and this poor shlub can see the top of her stockings and her thighs, and Jamie's talking about work, and all he wants her to do is work his cock.

"Are you paying attention to me?" Jamie asks. "Have you written down anything that I said?"

She takes his notepad to see what he's been writing, and she's shocked.

"Wow, 'I wanna pound that ass?' That's what you wrote?" Jamie says, aghast. "'Do you deep throat? I want your ass?' That's what you've been taking notes about the whole time?"

Now emboldened, the guy says, "I also wrote, 'I want you to suck my cock right now.'"

This kind of stuff can get a guy fired...if his boss is somebody other than Jamie.

"You know what I think?" Jamie tells him. "I think you're a very dirty boy. I like dirty boys."

Jamie found out about us from a friend she knows online. She has a long list of fetishes and is a very kinky woman. No one really knows how wild her private sex life is.

"I like sex multiple times a day," Jamie said. "I can be submissive or bossy depending on my partner of the moment. I'm kind of an exhibitionist. I like men or women getting sexually aroused by watching me. In a video, I can get thousands of people hot."

She definitely does that.