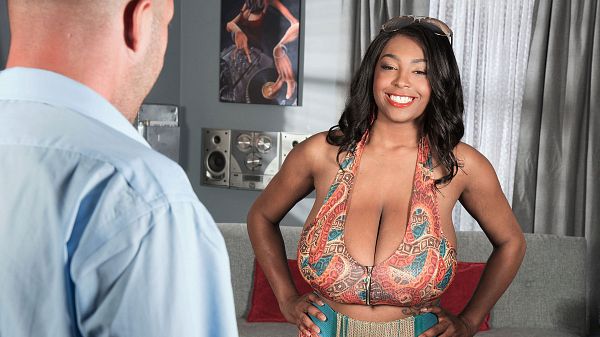 Rachel Raxxx is auditioning for a part in recording executive Jimmy Dix's next production. You'll get to hear Rachel actually sing in this scene. She has a very nice voice.

Jimmy is a tough guy to audition for and doesn't think sweet, gentle Rachel has what he needs. Apparently this audition is not for "American Boob Idol," for which Rachel is superbly qualified. Man, is he wrong about that.

Living up to his name, Jimmy's acting like a real dick. Young Rachel is persistent. She really wants that part and takes off her loose-fitting shirt that hides her other assets. She proudly shows off her award-winning figure. Even seeing Rachel's fantastic body in a tight tube dress doesn't move the icy Mr. Dix.

Rachel has one move left. She takes him by the hand and guides him to the casting couch (these fucking music execs always have one in their offices). There, she buries his face in her pliable boobs, tit-fucks him in different positions and sucks his dick like a lollipop.

Deciding to continue the audition after all, Mr. Music Exec is now all business, fucking Rachel hard and shooting a massive load on her face. Since Rachel inspires major nut-busting, this is no surprise.