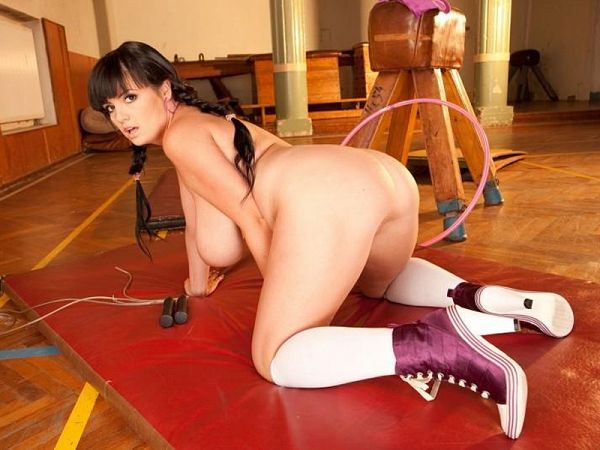 We don't know who taught Arianna her workout routine, but whoever he is, we have to give that man a pat on the back. Arianna doesn't bother with tiresome cardio and boring weight lifting. She has a natural pair of heavy bags on her chest, and she stays in shape by lifting them and dropping them, lifting, dropping, lifting, dropping. Now that's a workout! The truth is that although this video was shot in an actual gym, Arianna does absolutely no working out. Which shouldn't be surprising considering that her tits come out of her top within the first minute and she's wearing purple sneakers...with heels.

She lifts her boobs and drops them. Several reps. Then she does her pelvic thrusts. Very important. She gets on all fours and does her doggie-style exercises. She gets on her back again, plays with her pussy, then rubs cream all over her body. This workout is coming along very nicely. Better than that old-time Jane Fonda shit, that's for sure. Her boobs pillow. They've never looked bigger. Yes, this workout is definitely...working? "Are you working on your muscles, too?" Arianna says. Muscles? No. Muscle? Yes.

She pulls out a purple dildo. It matches her outfit. Did you know that a dildo is an important part of a girl's gym gear? Well, it is for Arianna. In, out, in, out, in out. Exercise with Arianna. It's good for you.