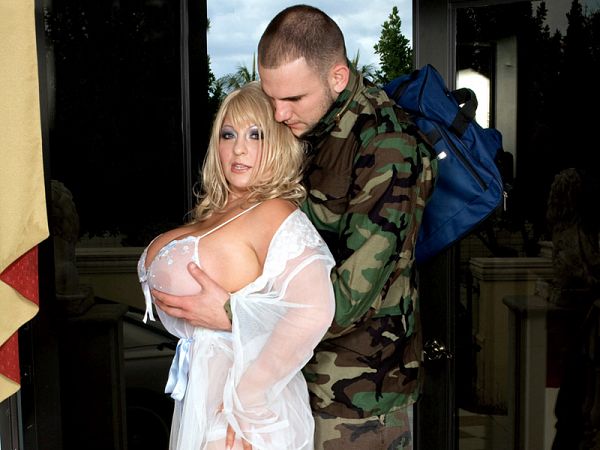 Wearing a skin-tight tube dress, SCORE Girl Angel Gee writes a letter to her man in the army. "Can't wait until you cum all over my tits," Angel writes. What a tender sentiment. It should be used in greeting cards. She rubs her tits and pussy-hole thinking about getting fucked.

Cut to later. There's a knock at the door, Angel wears a sexy negligee as a sweet homecoming gift. Seeing Angel's massive tits under sheer lace, her man is on her in an instant, palming her huge, huge tits and pierced nipples. They're not even two feet from the front door as Angel kneels before his thick cock to worship it with her wet mouth and soft hands.

They move to the couch so Angel can have her pussy licked and fingered as foreplay for fucking. "You're gonna have to break me in all over again," a hyper-horny Angel cries. A very vocal girl, Angel gets even hornier from her nasty talk. Angel's also a screamer. Girls like that are hard to find. "I love your dick, baby!" Angel yells.

Her own personal drill sergeant pumps the heavenly hooters out of Angel in enough banging positions for a sexology manual, ending with a pile-driver on the floor that drives her over the edge. Angel not only earns another set of wings, she earns a thick load of cream all over her giant jugs.