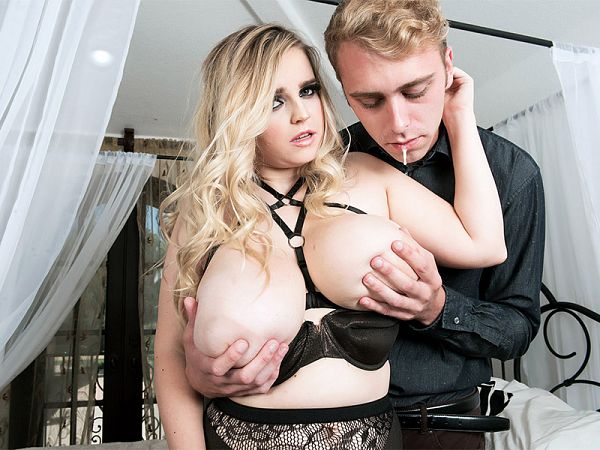 Codi Vore is dressed for hot, steamy sex in black lingerie. Her big tits look bigger than ever, overflowing her top. Tits incredible. Dustin helps her out of her top and does some spontaneous boob bondage with straps as Codi rubs her fuzzy pussy.

Codi is very vocal as Dustin fondles her lush body, squeezes her breasts and sucks on her nipples. She squeals, giggles, moans and makes other cries of erotic pleasure.

Codi turns around on the bed, ass-up, so Dustin can finger-bang her pussy. He licks her butthole and sticks a finger in and out. Spreading her cheeks apart, he sticks another finger in her pussy. She squeals as he continues his two-hole finger play and slaps her ass.

Codi's massive hooters hang as she kneels on the bed and deep-throats Dustin's big dick and sucks his balls, gagging and choking. Placing Codi on her back, he tit-fucks the gorgeous blonde. She opens her mouth to suck and lick the cock-head as it approaches her face.

Spreading Codi's legs apart, Dustin plunges his cock deep inside her wet cunny and begins his thrusting. He should appreciate the position he's in because thousands of guys dream of being in this exact position with Codi Vore. He and Codi fuck hard until she jacks his dick off in her face and mouth. She sticks her fingers in her mouth to taste his nut, sucks on her nipple and smiles at the camera, her beautiful face covered in cum.