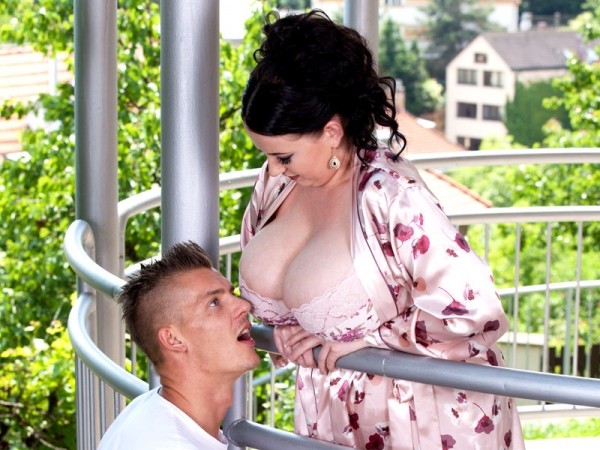 After a hard day of work, a man needs a cold drink and some pussy. While we don't have any cold beverages on hand, we do have one of our favorite girls, Anna Beck. And she has the cure for what ails an overworked young man. Namely, a pair of M-cup tits and a mouth and pussy that are always ready for dick.

And Novis is ready for Anna as soon as he lays eyes on her scantily clad body in a light pink negligee. He hastily pulls her tits out of her bra when she makes her way over to him and sucks on her breasts while pinching her nipples. He's getting Anna so worked up that she can't even wait til they get to the bedroom to taste his cock. Novis is still standing on the other side of the balcony railing, and she pulls his pole out of his shorts and sucks on his cock between the spaces in the railing.

These two are practically eating each other alive when they finally do get to the bedroom. Anna can't keep Novis' cock out of her mouth, and when he finally slides inside her cunt, he can't keep her mountain of tits out of his mouth. They're fucking with passion and intensity, the way sex was meant to be. And when you're bangin' Ms. Beck, this is the only way sex can be.