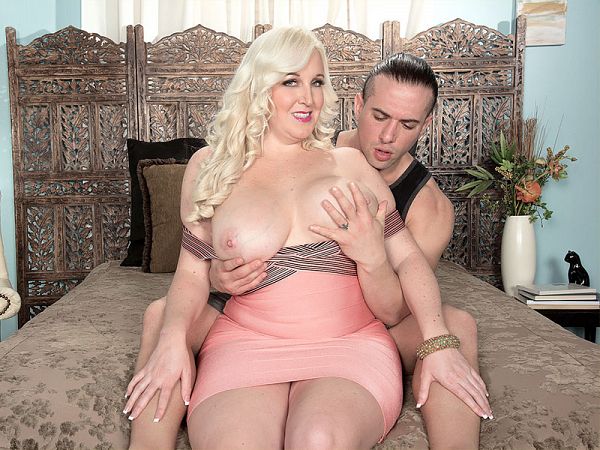 In this scene, big-assed, big-titted blonde Holly Wood sucks cock, gets her pussy fucked and then gets her tits glazed with cum, as they should be. This was Holly's first on-camera fuck, so Elliot James talked to her about it.

SCORELAND: How different was it for you to be photographed having sex?

Holly: It really is a lot different when a photographer is around. Suddenly I have to worry about how I look in every angle. When I'm just having sex with someone, they can't see every aspect of my body like a camera across the room does.

SCORELAND: Were you nervous at all before your first hardcore scene?

Holly: I was nervous because I didn't exactly know the step-by-step process of how things flowed. I enjoy being in control, and I typically plan everything out in my head beforehand. Here, I couldn't do that because I was a newbie! It was fun having to let go and be more spontaneous with my days. I wasn't nervous about the actual scene or having sex. It's something I do every day! It's the other aspects that made my heart flutter!

SCORELAND: Do you watch porn in general or did you watch any SCORE videos before you came here?

Holly: I watch porn almost every day. I didn't get to see many SCORE videos, just trailers, so I had some idea of how things would look.

SCORELAND: What kind of porn do you like?

Holly: What don't I watch? All of it turns me on, seriously! Especially cum shots. Something about seeing that moment of ecstasy.

SCORELAND: What would you say to other busty girls interested in shooting for SCORE?

Holly: I'd say it over and over: Do it! They are professional, nice, fun, and a pleasure to work with! I trust them completely!