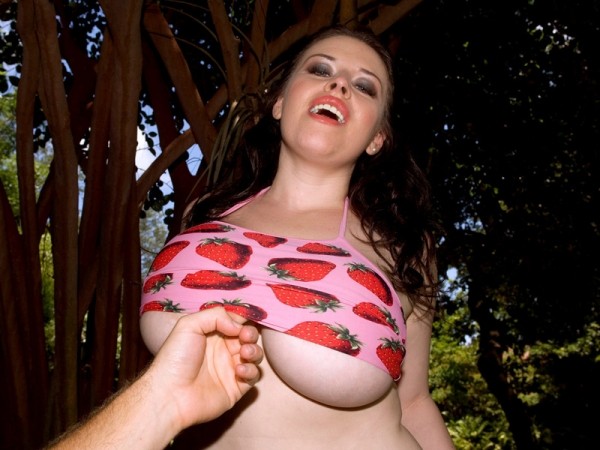 "My mouth is very, very talented. I can obviously do a great titty fuck. My pussy, I've heard, is absolutely amazing. My asshole, very accommodating."

This is a direct quote, spoken from inside the SCORE office, by the amazing Daphne Rosen, a girl I've had the hots over since I first saw her when she was blonde and much less busty.

"I was sort of born for sex," said Daphne, a proud member of the SCORE Big-Boob Hall of Fame. "I mean, fate dealt me a hand that I basically had no choice."

Daphne is 100% into porn in every way. Her motivations go way beyond earning money and getting her name out there.

"I love big boobs, and I saw these other girls around me with bigger boobs than mine, and although my breasts were large on their own, I almost coveted their boobs," she said. "I'd see them and say, 'I want that.' And you can get it, so I figured I might as well. I was also a little sick of being blonde. I'm Jewish. I wanted to put that out there. I mean, there are Jewish blondes, but I wanted to go more to my roots and pop up my features a little bit."

Daphne co-hosted a weekly internet radio show in '05 and '06, "Two Live Jew with Daphne Rosen & Harry Weiss," on KSEX Radio.

In all the annals of big-tit porn, Daphne's ass has the greatest acclaim. She has both huge tits and a big, spankin' butt that has been pumped many times.

"Some guys suck at anal," she said. "They can't figure out how to do it, and it's not pleasurable. When a guy can handle himself, it's all good."

The guys who've popped Daphne's asshole in over two dozen SCORE scenes and feature movies didn't get any complaints from here.

"There's not a lot of girls that are as busty as I am and are willing to do as much as I am," Daphne told Adult Video News Magazine in 2006. "It's really cool because I'm able to be in the big-bust world, but I'm nasty enough to be a real, live porn star. I've got the big bust, but I don't use it as an excuse for only doing Disney porn."

This is one of my favorite Daphne videos because it's shot outdoors and we get to see Daphne in different tight tops before she eventually starts working over this lucky gent's poker. Few kill a tank top like she can. Incredible. She has paired off at SCORE with Maggie Green, Morgan Leigh and Angel Gee. I always wanted to see her in nasty girl-girl-guy threesomes with Summer Sinn, Brandy Dean and Minka, too.

Daphne lives a quieter life these days. She left porn-land Los Angeles and moved to the Seattle area, where she focuses on finding new models and stays behind the camera. And she's kept her 34Gs, so I'd say she still enjoys them.