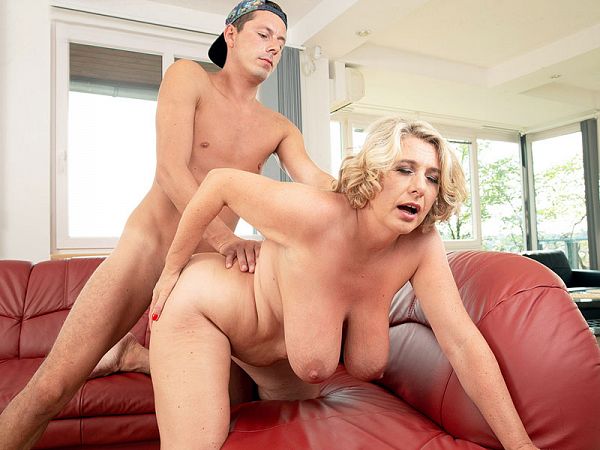 "I was a teeny-bopper to Aha. I even went to see them live for my 16th birthday."

So said Camilla, who's now 46 years old and sucking and fucking a guy who's just about young enough to be her son. In their most-famous song, "Take On Me," Aha sings:

We're talking away
I don't know what
I'm to say I'll say it anyway
Today's another day to find you
Shying away
I'll be coming for your love, okay?

Camilla has obviously come a long way since she was a teenager and bopping to those lousy lyrics. When a guy says, "I'll be coming for your love, okay?" Camilla says, "Okay." Then she goes for Nick's rod, not giving a shit about his love, brings him inside, wraps her big tits around his dick, sucks his cock, fucks him, then, while riding his rod reverse-cowgirl, has him cum in her pussy. So, former teeny-bopper to Aha now gets a creampie for all the world to see. "A-ha!"

"I'm living my fantasy," said this divorcee and mom from Nottingham, England, fictional home of Robin Hood.

Camilla has had sex with a 20-year-old. She loves being nude. We asked her what satisfies her best and she said, "Big cock." That's easy enough...as long as you have a big cock. She likes being watched while having sex, so the more the merrier, guys. Camilla is sitting home right now thinking about all the men who are going to be jacking off to this video.

By the way, Camilla, how do you feel about anal sex?

"I love it," she said.

Can you guess what Camilla will be doing next time you see her?
See More of Camilla at 40SOMETHINGMAG.COM!