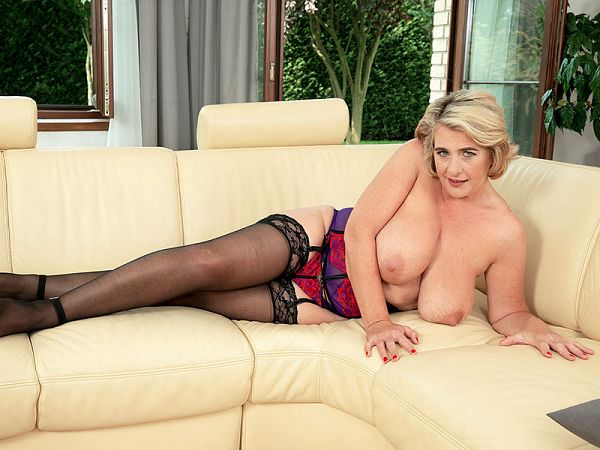 Camilla is horny. She says so at the start of this video. She's dressed for sex in a bra, panties, stockings, a garter belt and heels. She looks good enough to fuck.

"Do you like my outfit?" this 46-year-old divorcee and mom from England asks.

Damn right we do!

"It makes these look even bigger," she says, bunching up her tits. And they're big to begin with.

Then she rubs her pussy and handles her tits, making herself even hornier. Her pussy is very wet. She tells us that, too. She takes off her bra and licks her nipples. Don't you wish it was you licking her nipples? She talks dirty, telling you about the big, fat cock that she wants between her tits. She shows off her ass, which is big and round, and shoves a finger inside her cunt. She licks the pussy juices off her finger, tells you how good it tastes, lies back and diddles and fingers herself until she cums.

"That was very intense," Camilla tells her videographer after she's cum and cum and cum. Then, totally naked, she sits down for an interview.

So this is a little backwards: First you watch a woman cum then you find out all about her. But it works for us.
See More of Camilla at 40SOMETHINGMAG.COM!